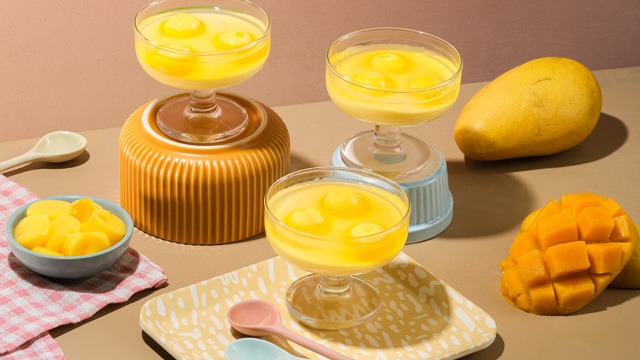 What Is Mango Mousse?
The Philippine summer is always plentiful of mango fruit, and one of the easiest ways of enjoying this fruit as a dessert is as a mango mousse. A mousse is a whipped and airy confection normally made so using whipped egg whites. This can be difficult and intimidating to beginner cooks as well as to wary ones since whipped egg whites are raw.
As a substitute, many switch to whipped cream instead which not only makes a safer ingredient substitute, but it also made the confection extra rich and creamier.
Chocolate mousse may be the most popular kind of mousse one can make but fruits such as mangoes are just as delicious and decadent.
How to Serve Mango Mousse
There's no need to do anything else to this dessert when ready to serve! Not only is it already presentable after it's made, but it's actually stunning as is.
However, one thing you have to remember is to always serve this straight from the refrigerator since gelatin melts easily in our hot weather. When warmed, the gelatin can melt and you will end up with a liquid dessert instead of a more solid one that jiggles as you spoon into it.
How To Cook Mango Mousse
The mango mousse is stunning in presentation and this entails a few steps to make it so. First you need to remember that you'll need time to complete this no-bake dessert. Each of the layers of this dessert need to set before the next one is added.
The first layer is the mango mousse itself. This is made by making a mousse base of mango puree mixed with gelatin to ensure the layer can set more solidly. Whipped cream is folded into the mango to create a mousse texture. You'll spoon this mixture into the glasses to set first.
The gelatin layer is a simple one since you just need to dissolve the gelatin in water. You can sweeten this as desired or you can leave it unsweetened since the mousse and the fruits are sweetened.
The gelatin layer also includes the ball halves made of fresh mangoes in it. To make these adorable orbs, you'll need either a melon baller or a spoon with a deep scoop. We found that a metal measuring teaspoon worked really well as a substitute kitchen tool for this! If you have neither of these tools, you can also simply slice the mangoes and arrange these decoratively on top of the set mousse.
Gently pour the gelatin over the mango balls to encase the balls and on top of the mousse layer. Let this set again.
If you are using a tall glass, add another layer of mango mousse on top of the gelatin layer. If you have more fresh mangoes, use these as your finishing touch on top of the last layer you create before you serve it.
Tips To Make The Best Mango Mousse
1 Sweeten the gelatin.
This mango mousse recipe is loaded with mango flavors, from the mousse itself down to the balls of fresh fruit added to the dessert. To give your palate a break from its flavor, the clear gelatin is neutral in taste.
ADVERTISEMENT - CONTINUE READING BELOW
Recommended Videos
However, you can of course sweeten the gelatin as well with a little sugar or even use mango puree in it just like you did to the mousse layer to really give the dessert a punch of the fruity flavor throughout the dessert.
2 Top it with whipped cream. 
Your serving glass may be larger and/or taller than the ones we used and thus, you can add even more layers of the mousse and gelatin as you desire! Top it off with whipped cream just before serving.
3 Add or use another fruit!
Mangoes are undoubtedly delicious but why stop there? Mangoes go well paired with other fruits, too. Instead of just one fruit, you can add another to the dessert, such as slices of fresh strawberries, chunks of bananas, or dollops of applesauce, to give your mango mousse more flavor and appeal to those who might grow tired of just tasting mangoes in their dessert.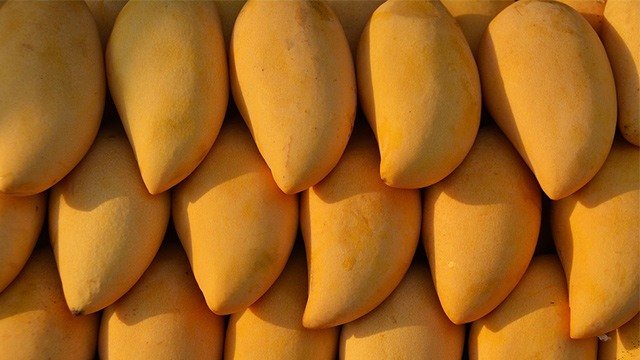 Mango Mousse Storage Tips
1 This mango mousse should be refrigerated. 
This recipe contains cold components: the mousse, the fruit, and the gelatin. All need to be chilled to be served and enjoyed at its best so to store, keep these filled dessert glasses chilled. To better store them for a longer period of time or should you have leftovers, cover these glasses with plastic wrap to protect them from absorbing odors and flavors you do not want to taste.  
2 Do not freeze the mango mousse. 
While this dessert should be chilled, however, it should not be frozen since gelatin will actually not freeze. 
Watch: Summer Mango Mousse Recipe Video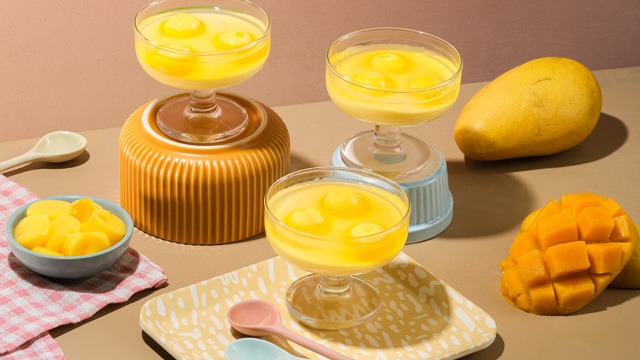 Summer Mango Mousse Recipe
Two of your favorite desserts—mousse and gelatin—in one fabulous recipe!
Ingredients
Summer Mango Mousse Ingredients
1

teaspoon

unflavored gelatin

1

cup

mango purée

4

tablespoons

sugar

1/4

cup

water

3/4

cup

whipped cream

1

box

clear unflavored gelatin

2

pieces

mango
Instructions
Make the mango mousse
Bloom gelatin by addint it 2 tablespoons cold water. Set aside.

In a saucepan, heat mango purée, sugar, and water.

When the sugar has dissolved, add the bloomed gelatin and whisk until it has dissolved.

Strain into a bowl. Cool to room temperature.

Whip heavy cream to medium peak.

Fold in whipped cream into mango gelatin mixture. Break apart any lumps and fold until it is smooth.

Pour the mango mousse into your preferred cups. Let them set in the refrigerator.
Make the clear gelatin.
Prepare clear gelatin according to package directions.
Assemble the summer mango mousse cup.
Cut open mangoes. Use a melon baller or a stainless measuring spoon to scoop out mango balls. Alternatively, you can also dice the mangoes.

Bring out the chilled mango mousse and top with the mango balls.

Add a layer of clear gelatin and mango balls.

Chill until completely set. Garnish with more whipped cream mango balls if desired.
Notes
Be sure to strain the cooked mango mixture to get a smooth mousse.
Try These Other Yummy Recipes: