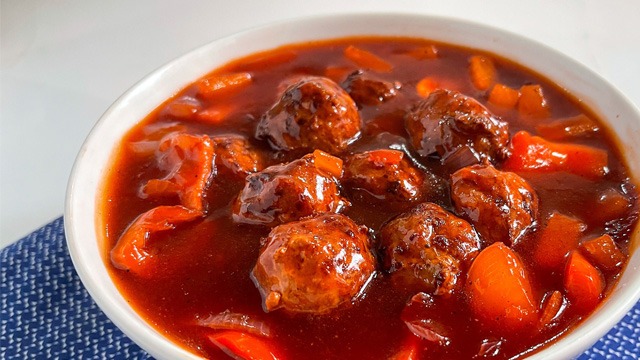 The classic sweet and sour sauce is one that transcends generations. You may remember the time when you loved it as a kid with these glistening mounds of meat coated in a flavorful and colorful sauce. These are sweet and sour meatballs. 
Meatballs are commonly made with pork but if you're trying to budget, you can swap that meat with more affordable chicken. You still get that same chunkiness you want without it putting a big dent in your budget. (Plus, kids love chicken!) 
The meatballs aren't the only thing about this dish that makes it memorable. 
If you love the sweet and sour sauce with the meatballs from your childhood, you need to make the sauce that has both banana ketchup and pineapples in it. These two ingredients are the classic ones that make the sauce irresistibly delicious! Not only does the banana ketchup deliver sweetness, a touch of spiciness, and a consistency that helps make the sauce thick enough to coat each meatball but it also transforms the sauce into that classic red color that you can only get from the condiment. 
That's not the only thing that makes this sauce so good. The pineapples, especially canned ones, are sweet but it still retains the tanginess that makes pineapples a natural sour agent in dishes. While you can get a similar sourness from vinegar, the pineapple's sourness is perfectly balanced with its other taste: sweetness. 
You just can't have one meatball on your plate! Scoop some up and savor each one when you make this easy and classic recipe with a twist..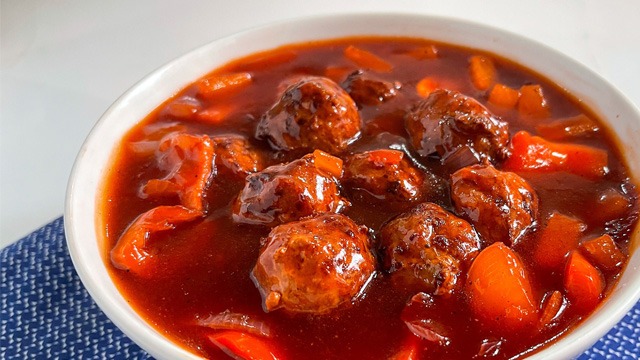 Sweet and Sour Chicken Meatballs Recipe
Make this classic meatball recipe kid-friendly with chicken.
Ingredients
Sweet and Sour Chicken Meatballs Ingredients
1

kilo

ground chicken

1

medium

red onion

chopped

1

large

Egg

1/2

teaspoon

Salt

or to taste

1/4

teaspoon

ground black pepper

or to taste

2

cloves

Garlic

minced

2

medium

red onions

cut into quarters

2

medium

red bell peppers

sliced

1

medium

carrot

sliced

1

Cup

Pineapple Tidbits

with juice

1

Cup

banana ketchup

2

tablespoons

oyster sauce

1

teaspoon

cornstarch

1/2

Cup

warm water

1/4

Cup

brown sugar

Salt

to taste

ground black pepper

to taste

Oil

as needed
Instructions
In a bowl, combine the ground chicken, onion, egg, salt, and black pepper.

Take a small amount and fry it to check the taste. Adjust seasoning as desired.

Once the taste is to your satsifaction, form the ground chicken mixture into small meatballs and refrigerate for 15 minutes.

Fry each meatball in a pot with hot oil. Drain excess oil from the meatballs on paper towels. Set aside.

Make the sweet and sour sauce: Saute garlic and onions in hot oil. Add the ginger, then the bell peppers and carrots. Add in the pineapple tidbits with juice, banana ketchup, and oyster sauce. Let it simmer.

In a small bowl, mix the water and cornstarch. Pour the mixture into the pot and stir over low heat. Add the brown sugar. Let the sauce simmer for 15 minutess or until the sauce has thickened. Season the sauce with salt and pepper according to your taste.

Add the meatballs to the pot and mix with the sauce. Transfer to a serving dish and serve while hot.
ADVERTISEMENT - CONTINUE READING BELOW
Recommended Videos