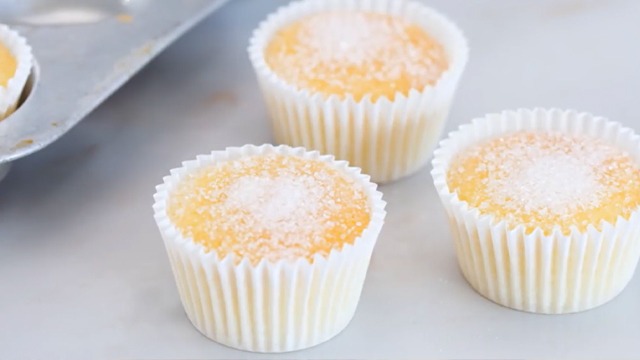 Taisan cupcakes are a beloved panaderya treat. They're simply flavored, pillowy soft, and a popular after-school snack. The simple butter and sugar topping makes these cupcakes different from the typical mamon (sponge cake) and elevates these into an irresistible treat.
What are Taisan Cupcakes?
These little cupcakes are nostalgic because these were the cupcakes we grew up eating! These are incredibly soft and tender little cupcakes. The base is a simple chiffon mini cake topped with sugar. Sometimes, these are baked in loaf pans and brushed with butter and topped with grated cheese. These however we simpler fare that attracted our sweet tooth with its signature crystalline topping of granulated sugar.
How to Serve Taisan Cupcakes
It's easy to see how these could be so addictive! These were simply baked in unassuming cupcake liners that were small enough to fit our grade school hands but big enough to satisfy our yearning for a sweet snack.
How to Bake Taisan Cupcakes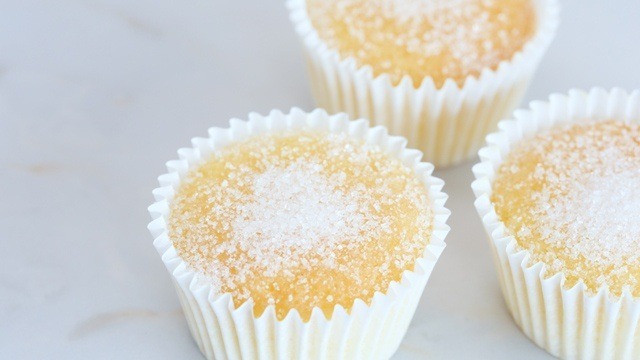 The cupcake itself is a straightforward chiffon cake. The addition of baking powder into an otherwise sponge cake recipe batter ensures that nothing inhibits the cake's rise in the oven. The batter starts with egg yolks, oil (or melted butter if you want to get fancy), water, a little lemon zest, and a little vanilla flavoring if desired. (The aroma is undeniably irresistible if you do.) These are beaten until frothy and light. The dry ingredients are then folded in.
Then comes the whipped egg whites. This is probably the most important part of the recipe since this is what will provide that initial lift when the cake is in the oven. Whipped egg whites should be soft and moderately opaque in color when properly whipped. This needs to be folded into the egg yolk batter until just mixed in.
Portion these into cupcake liners in cupcake tins before baking. You'll be rewarded with little puffs of soft cake that yield just enough when gently pressed and bounce back. These can be brushed with melted butter immediately and sprinkled with sugar. You'll want more than one of these delicate little cakes when they finally cool down enough to eat!
Tips to Make Taisan Cupcakes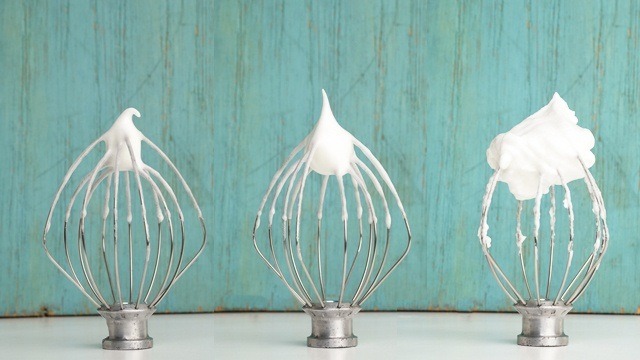 The most important tip is to handle the egg whites right. Remember to whip the egg whites until just stiff peaks for a maximum rise in the oven. If you do not whip it enough, you'll have less tender cakes. If you overwhip or overbeat the egg whites, you can whip another egg white and add it in to fix the dry whites. You know you're done whipping the egg whites when you can hold the bowl over and none slip out.
ADVERTISEMENT - CONTINUE READING BELOW
Recommended Videos
Another way to tell is to hold your whisk up and see if the tip of the egg white stays up or droops. If it droops, whip it a little more. If it doesn't, it's perfect! If it clumps, you overbeat it and should whip another egg white to help fix your baking mistake.
How to Store Taisan Cupcakes
These cupcakes are delicate so storing these in airtight containers is a must! However, storing these is also not a good idea since they are dotted with lots of air pockets that can easily make these stale. Avoid this by consuming them within 2 to 3 days for best results.
Watch: Taisan Cupcakes Recipe
Taisan Cupcakes Recipe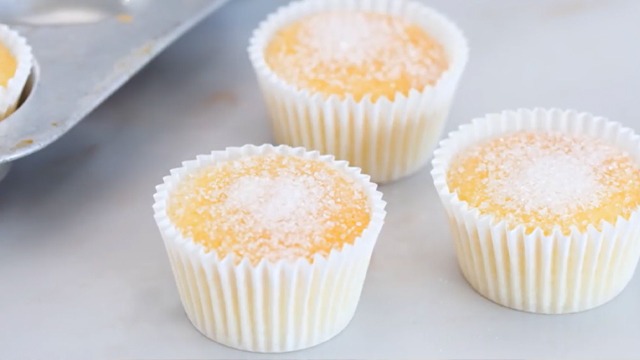 Taisan Cupcakes Recipe
These soft, simple cupcakes are nostalgic bites of cake.
Ingredients
Taisan Cupcakes Ingredients
3

large

eggs

separated

1/4

Cup

canola oil

1/4

Cup

water

1

teaspoon

vanilla flavoring

zest from 1 lemon

1

Cup

caster sugar

or superfine sugar, divided

1

Cup

cake flour

sifted

1/2

tablespoon

baking powder

1/2

teaspoon

Salt

1/4

teaspoon

cream of tartar

1/2

Cup

salted butter

melted

1/2

Cup

sugar

for topping
Instructions
Preheat oven to 325 degrees F or 163 degrees C. Place liners into a 12-cup cupcake pan. Set aside.

In a large bowl using a wooden spoon, beat egg yolks, oil, water, vanilla extract, and lemon zest. Add flour, baking powder, salt, and 3/4 c. sugar and beat until just combined, scraping the sides and bottom of the bowl as needed. Set aside.

In the mixing bowl of a stand mixer with the whisk attachment, add egg whites and cream of tartar, and whisk on Medium-High until foamy. Sprinkle gradually the remaining sugar to make a meringue. Whisk only until stiff peaks.

Scoop out 1/3 of the meringue, and add to the cake batter. Using a whisk, fold in meringue. Once well mixed, add the remaining meringue in batches, folding while being careful to not over mix the batter and release all the air whipped into the egg whites. (A few thin egg white streaks is ok.) Divide mixture evenly between the prepared cupcake liners.

Place in the oven, and bake for about 15 minutes or until a toothpick inserted into the centers emerge clean and the tops are golden brown. Remove from the oven, and transfer to a wire rack to cool slightly.

Brush butter onto the tops of each cupcake. Sprinkle with sugar. Repeat with remaining cupcakes. Serve.