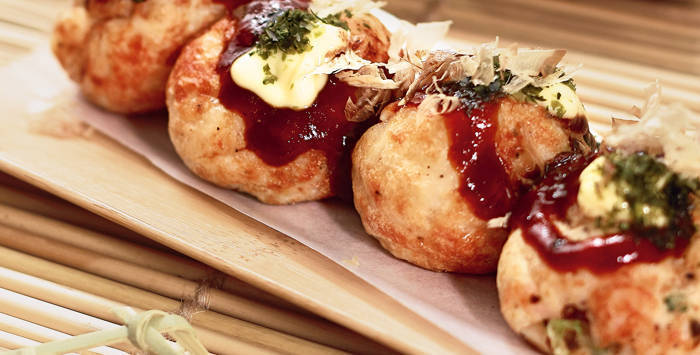 Takoyaki balls are a Japanese snack typically filled with minced or diced octopus (tako), pickled ginger, and onions and covered in a wheat flour-based batter. It's a popular streetfood in Japan, served with takoyaki sauce, bonito (fish) flakes, and Japanese mayonnaise.
Crispy on the outside, gooey on the inside, these Japanese octopus dumplings are a delight to make and eat. Best eaten while piping hot!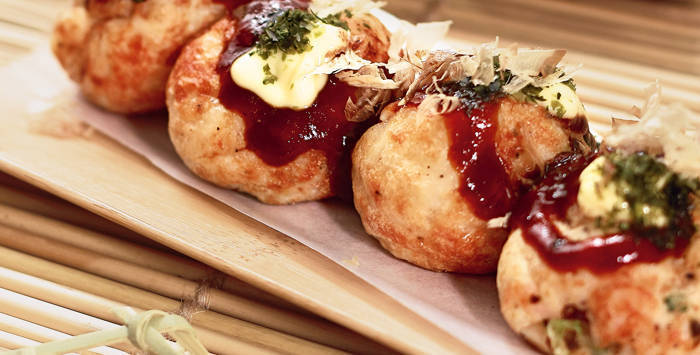 Takoyaki Balls
These Japanese octopus dumplings are crispy on the outside and gooey on the inside! A delight to eat!
Ingredients
Takoyaki Balls
1

Cup

cake flour

1/4

teaspoon

cake flour

1/4

teaspoon

Salt

1/4

teaspoon

black pepper

1

teaspoon

vegetable oil

2

cups

water

cold

1

Egg

1/2

Cup

bonito dashi powder

1

teaspoon

shoyu soy sauce

vegetable oil

Octopus

cut into bite-size pieces

green onion

chopped

Pickled Red Ginger Strips (Benishoga)

chopped

cabbage

chopped

Dried Bonito Flakes (Katsuobushi)

green seaweed powder

Takoyaki

Japanese mayonnaise
Instructions
In a bowl, combine cake flour, baking powder, salt, pepper, and oil. Mix well and set aside.

In another bowl, whisk to combine water, egg, dashi powder, and shoyu.

Add egg mixture to the flour mixture; mix until smooth.

Grease and brush a preheated, very hot takoyaki pan with vegetable oil. Pour batter into each cup until full.

Place a few pieces of each filling ingredient into each cup.

Allow the bottom to set and cook until golden brown, about 2 minutes; turn the balls using takoyaki picks to cook the other side. (For a crispier crust, brush more oil and heat longer.)

Transfer to a plate. Sprinkle with bonito flakes and seaweed powder, and drizzle with takoyaki sauce and Japanese mayonnaise before serving.