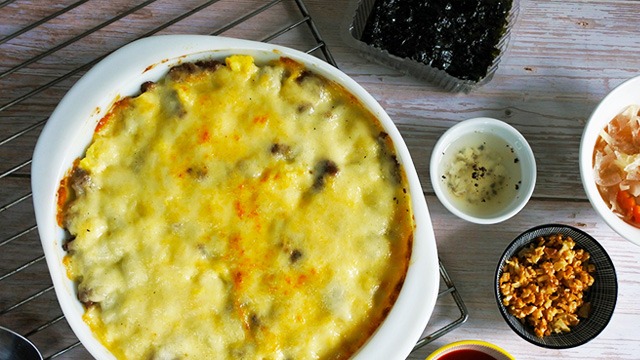 The baked sushiis one of the most popular food trends to emerge from the quarantine. The most common is the deconstructed salmon sushi, but not everyone loves fish or seafood! We took your favorite tapsilog breakfast meal and transformed it into a sushi bake. It is topped with a creamy mixture of quick-melting cheese and mayonnaise, so it can melt into the tapa, egg, and garlic rice underneath.
Serve it with your favorite sides and dips for the best breakfast you'll ever make.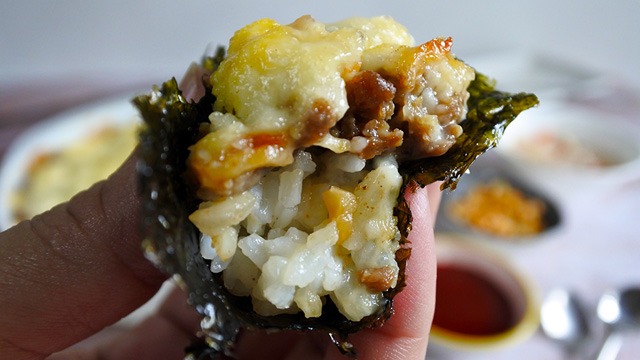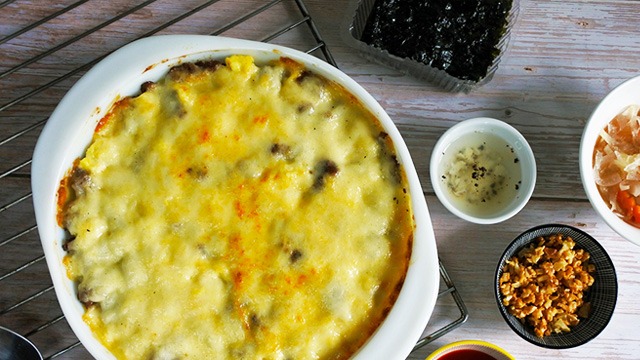 Tapsilog Sushi Bake Recipe
Transform your breakfast into the latest food trend!
Ingredients
Tapsilog Sushi Bake Ingredients
1

Cup

short grain rice (Dinorado)

rinsed

1/2

Cup

Glutinous rice (malagkit)

rinsed

1 1/2

cups

water

or as needed

1/4

Cup

cooking oil

1

head

Garlic

chopped

1

500-gram pack

Beef tapa

finely chopped

2

large

eggs

beaten slightly

1

Cup

quick-melting cheese

grated

1/2

Cup

mayonnaise

spiced vinegar

to serve

Pickled Vegetables (Atsara)

to serve

banana ketchup

to serve

Nori sheets (dried seaweed)

to serve
Instructions
Cook the rice in a rice cooker. Fluff the rice and let cool until warm. Transfer 3 cups cooked rice into a 8-inch round glass baking dish. Set aside. 

Meanwhile, in a large frying pan over medium heat, heat oil. Add garlic and cook until toasted. Remove from the heat, leaving the oil in the pan. Sprinkle half the garlic over the rice, reserving the remaining toasted garlic to serve on the side. 

Add the tapa to the pan with the remaining oil. Spread out the tapa in a single layer in the pan to minimize steaming and let cook. Simmer the tapa until all the juices have evaporated and begin to fry in the oil. Saute, stirring to prevent burning, and cook until the tapa has caramelized. Remove from heat and set aside. 

In the same pan, scramble and cook the eggs to your desired doneness. Remove from the heat and set aside. 

Preheat the oven to 350 degrees F or 180 degrees C. 

Mix the mayonnaise and cheese in a bowl. Scatter the cooked tapa and scrambled eggs over the garlic-topped rice. Cover the tapa and eggs with the cheese-mayo mixture. Place in the preheated oven and bake for 20 minutes or until the cheese has melted and begun to brown. Serve while hot with seasoned crispy nori sheets, atsara, vinegar, and banana ketchup.