You can add creamy richness to your tinola with the simple addition of coconut cream. This Filipino classic is the saucy chicken recipe you need. To make it even spicier, crush the sili into the sauce!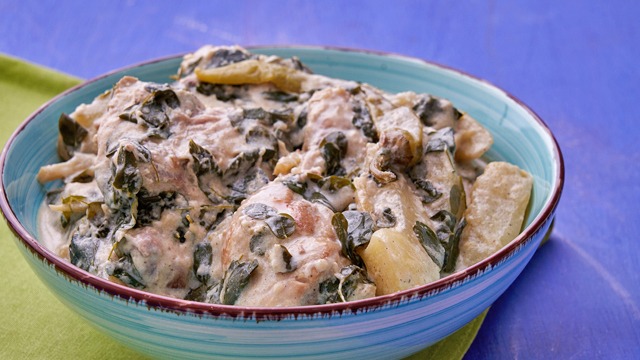 Tinolang Manok Sa Gata Recipe
Transform your tinola into something creamy.
Ingredients
Tinolang Manok Sa Gata Ingredients
1/4

Cup

vegetable oil

1/2

head

Garlic

minced

1

inch

ginger

thinly sliced

2

medium

red onions

chopped

1

kilo

Chicken,

tinola cut

1/4

Cup

fish sauce (patis)

1

teaspoon

ground black pepper

to taste

1

medium size

green papaya

sliced

1

Cup

water

2

tablespoons

white vinegar

1

chicken bouillon cube

1

50-gram pack

coconut milk (gata) powder

dissolved in 1 cup water

4

pieces

1

bunch

malunggay leaves
Instructions
In a large pan over medium heat, preheat oil. Sauté the garlic until golden brown. Add ginger then onions. When onions have turned translucent, add your chicken. Add patis and ground black pepper. Stir well together then cover. Cook until chicken turns golden brown, about 10 minutes.

Pierce the chicken with a fork to make sure that the chicken is cooked all the way through. Then, add green papaya, water, and vinegar. Stir in chicken bouillon cube and cover. When your mixture starts boiling, check if the green papaya is cooked by poking it with a fork. (It should easily go through.) Once the green papaya is cooked, add your gata mixture.

Once the mixture boils again, add your siling pangsigang and let simmer until the sauce has slightly thickened. Spread your malunggay leaves without mixing on top. Let it cook for 15 seconds and then remove from heat. Serve hot with patis and calamansi as dipping sauce.