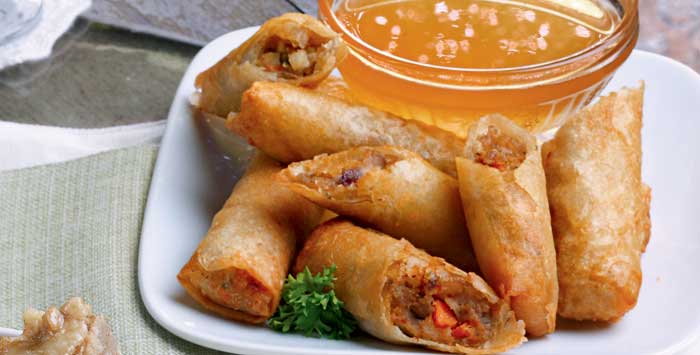 Lumpiang Shanghai is the perfect dish for any occasion, so this basic lumpia recipe is all you really need to make a delicious fried spring roll recipe. 
Lumpia or Filipino spring rolls are one of the most versatile Filipino dishes.
Every meal is a party when you add these rolls to the menu. Whether you're having lumpia as a snack, a meal, or a party appetizer, lumpia is always a delicious dish. Ask any Filipino family about their lumpia recipe, and you are sure to get different versions. Plus, it is so diverse that it can be categorized according to what ingredients you wrap in the lumpia wrapper!
Among the most common lumpia rolls are lumpiang gulay of which lumpiang togue (beansprouts) is a famous variant. There's also lumpiang sariwa (or fresh lumpia), lumpiang ubod, and lumpiang hubad.
This is just the tip of the lumpia iceberg. At the pinnacle of this is the most arguably quintessential lumpia of them all: the lumpiang Shanghai.
Each bite of this fried roll leaves you wanting more as lumpiang Shanghai has vegetables and meat in perfect balance. While it primarily features pork, onions, garlic, carrots, and parsley, the lumpia recipe below also includes shrimp, celery, and even singkamas!
Depending on your preferences, you could also substitute the pork with chicken, beef, or even fish. If you're feeling creative, there are endless ways to spruce up lumpiang Shanghai recipes, from adding a twist to an ingredient to creating amazing fusion lumpia rolls.
What more do you need to add to an already delicious lumpiang Shanghai recipe? 
It has pork, shrimp, celery, carrots, and even singkamas to ensure that every bite is a delicious and crunchy one. You can even add cabbage, togue, or even potatoes if you're feeling creative in the kitchen.
Just to help, here are tips you may need to make sure your lumpia recipe is perfectly cooked:      
• When frying, make sure the oil is at the right temperature so the filling is well-cooked and the wrapper is golden brown.
• Don't have a thermometer? Not a problem! You can test the heat of your oil with a wooden spoon. Bubbles should form around the stick of the spoon to indicate that the oil is ready for frying.
• Remember to serve your lumpiang Shanghai dish with a side of sweet and sour sauce.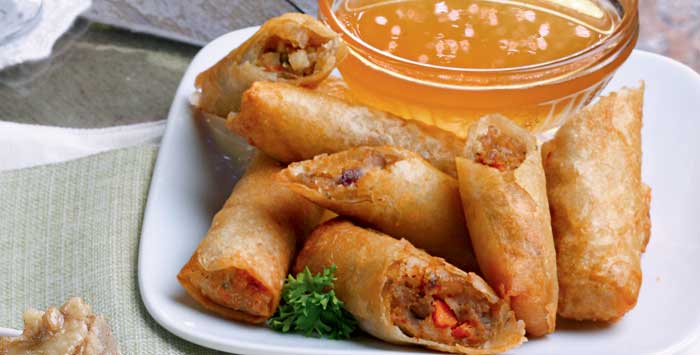 Lumpia Recipe
An heirloom family recipe for lumpia from Chef Giney Villar of Adarna Food and Culture.
Ingredients
Lumpia Ingredients
250

Grams

pork

use ground lean pork

100

Grams

Shrimp

minced

1/2

tablespoon

Garlic

minced

1

medium

onion

minced

1

Small

carrot

diced

1

Small

jicama (singkamas)

diced

1

stalk

celery

diced

4

stalks

kinchay (parsley)

minced

1

Egg

Salt

lumpia wrapper

Oil

for frying

1/4

Cup

brown sugar

2

tablespoons

Vinegar

1/2

teaspoon

Salt

1/2

Cup

water

1/2

tablespoon

Flour

2 to 3

tablespoons

water
Instructions
Mix all the ingredients (except the lumpia wrapper and oil) together very well in a bowl.

Wrap mixture in lumpia wrappers.

Heat oil. Fry lumpia until golden brown and serve while hot with sweet and sour sauce.

Make sweet and sour sauce: Place brown sugar, vinegar, salt, and water in a non-aluminum saucepan.

Stir only when it begins to boil. Reduce heat to a simmer, add slurry made of flour and water, and mix continuously until a smooth sauce is achieved. Depending on the flour you use, you may need a little more or less of the slurry. Add a little at a time until you get the desired consistency.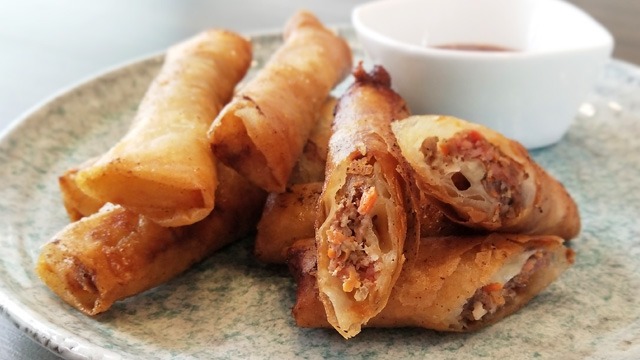 Lumpiang Shanghai with Cheese Recipe
Posted in:
Recipe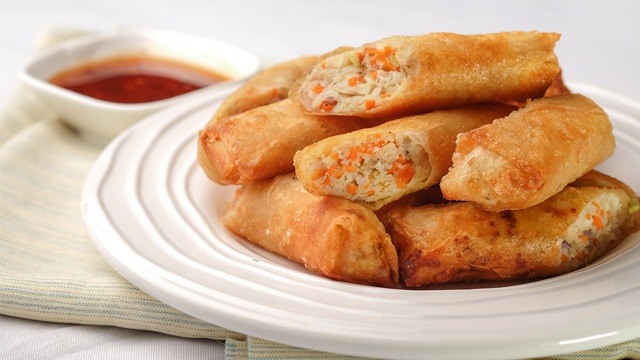 Fish Lumpia Recipe
Posted in:
Recipe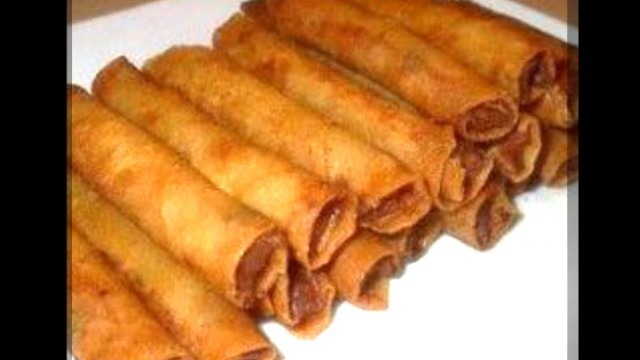 Lumpiang Shanghai
Posted in:
Reader Recipes