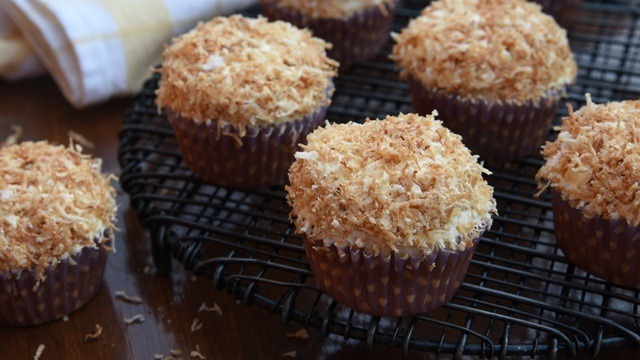 Use canned coconut milk and coconut cream to turn your regular white cake recipe into one with a tropical twist. The coconut oil in the frosting is optional—but it definitely turns that coconut flavor up a notch!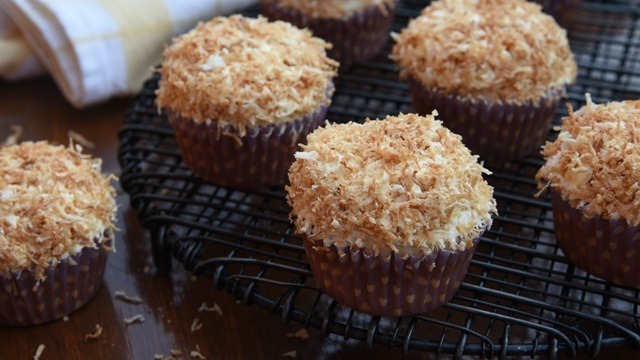 Toasted Coconut Cupcakes Recipe
Tender-crumbed cupcakes are flavored with coconut that's been lightly toasted.
Ingredients
Toasted Coconut Cupcakes Ingredients
1/2

Cup

freshly grated coconut (niyog)

squeezed dry

2

tablespoons

brown sugar

3

medium

egg whites

2/3

Cup

canned coconut milk

1

teaspoon

vanilla extract

2

cups

all-purpose flour

1

Cup

caster sugar

2

teaspoons

baking powder

1/2

teaspoon

Salt

1/2

Cup

Butter

at room temperature

3/4

Cup

unsalted butter

softened

2

cups

Powdered SUgar

sifted

1/8

teaspoon

Salt

3

tablespoons

coconut cream

1/2

teaspoon

vanilla extract

1

teaspoon

extra virgin coconut oil
Instructions
Preheat the oven to 350 degrees F (180 degrees C). Mix the grated coconut and brown sugar together, spread onto a baking sheet, and bake for 12-15 minutes or until golden brown and crunchy. Place in a bowl and set aside.

Line a cupcake tin with 12 cupcake liners. In a medium-sized bowl, lightly mix the egg whites, coconut milk, and vanilla with a whisk until just combined. Set aside.

In a large bowl, sift the flour, sugar, baking powder, and salt together. Whisk until thoroughly combined.

Add the butter into the flour mixture and, with a hand mixer or stand mixer, mix until the butter is evenly distributed and it forms a sandy mixture.

Add half the egg mixture and blend on medium speed for 10 seconds; add the other half of the egg mixture and blend on medium speed for 20 seconds or until smooth and combined. Scoop into prepared cupcake tin until liners are 3/4 full.

Bake for 25 minutes or until a toothpick inserted at the center comes out clean. Immediately transfer the cupcakes onto a wire rack and cool completely.

To make the frosting: With a handheld mixer or stand mixer, blend the butter, salt, and powdered sugar for 10 minutes on medium speed or until light and fluffy. Add the coconut cream, vanilla, and coconut oil, and blend until light and fluffy.

With an offset spatula, spread around 1 rounded tablespoon of frosting onto the top of each cupcake. Dip into the toasted coconut. Repeat with the rest of the cupcakes.