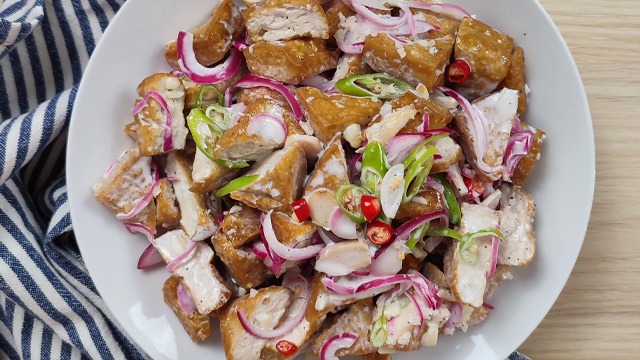 Do you love dinakdakan but don't know how to handle innards or pig brains? Then go for this super easy vegetarian recipe!
What Is Tofu Dinakdakan?
Dinakdakan is a regional recipe from Ilocos considered by many as an appetizer or a pulutan. It's a pork innards dish that is similar to sisig, but isn't made with the same pork parts. Instead of using just the maskara or the pig face, the dinakdakan is also made with pork brains. It's actually the pork brains that give this dish its signature creamy texture.
To make this into a meatless version, all the pork parts are replaced with tokwa. The tofu soaks in all the flavorful seasoning, giving it a delicious, tangy bite that's perfect with rice. Feel free to double or even triple your recipe because everyone is going to love this! It also keeps fairly well in a sealed container in the fridge for a week, so you can eat it anytime you're hungry hassle-free!
How To Serve Tofu Dinakdakan
Since the original dish made of pork is usually served as an appetizer or a pulutan, the dish is commonly served as is on a sizzling plate. However, this doesn't need any fancy plate to be served. Just spoon it into a plate, and serve it with your choice of ice-cold beverage!
You can also serve this with steamed white rice because just like sisig, it's fantastic as an ulam!
How To Make Tofu Dinakdakan
This recipe is made with tofu so it's best to prepare the tofu before you start with the dressing that will be tossed with it. The tokwa you use is best if it's a firm version so it can soak up all the flavors of the dressing you will use. Frying the tokwa is best so it can be golden brown and delicious.
The dressing is made with mayonnaise, and this is what replaces the pork brains that make the original dinakdakan creamy. The mayonnaise is mixed with some aromatics and seasoned well. It's made into a dressing using vinegar and gives the dish a wonderfully creamy yet tangy flavor that goes so well together.
Tips To Make Delicious Tofu Dinakdakan
1 Use scissors.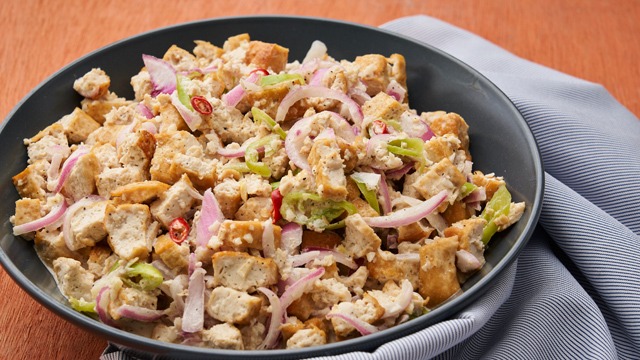 Did you know your kitchen scissors make cutting up fried tokwa so easy? No need for the chopping board and knife; just grab a piece of tokwa and cut away using the scissors! You can cut them small enough to be bite-sized or bigger if you want big bites of creamy-coated tofu.
2 Prepare the tokwa ahead.
The great thing with tokwa is that it can be prepared ahead of time. In fact, if you do prepare this dish ahead, you can freeze the tokwa so it can become even more receptive to the dressing that you will add. That's because freezing the tokwa will create pockets in the tokwa that allow this to happen better.
ADVERTISEMENT - CONTINUE READING BELOW
Recommended Videos
How To Store Tofu Dinakdakan
Whether the dinakdakan is already tossed in the dressing or not, storing this in the refrigerator is simple: just store it in an air-tight container. The mayonnaise makes this dish more perishable than without while the tokwa itself is also more likely to go bad faster if not prepared properly. To reheat, the mayonnaise dressing may vanish but the taste will still be present so don't be fooled!
Watch: Tofu Dinakdakan Recipe
Tofu Dinakdakan Recipe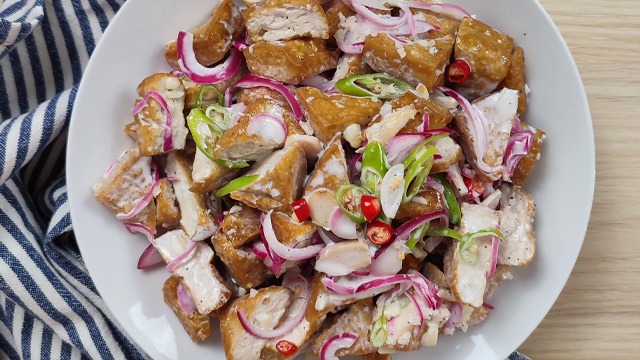 Tofu Dinakdakan Recipe
Get all the delicious flavors of a dinakdakan without the meat.
Ingredients
Tofu Dinakdakan Ingredients
2-3

cups

vegetable oil

for deep frying

2

350-gram block

firm tofu

sliced into 1/2-inch squares

1

head

Garlic

minced

1 1/2

inches

ginger

thinly sliced

3/4

Cup

white vinegar

1

teaspoon

Salt

or to taste

1

teaspoon

ground black pepper

or to taste

1

piece

siling labuyo

sliced

3

pieces

green chilies (sili pangsigang)

sliced

3

medium

red onions

sliced thinly

1

Cup

mayonnaise
Instructions
In a preheated medium-sized pan over medium high heat, preheat oil for deep frying. Deep fry tofu, flipping, until evenly golden brown. Drain tofu. Using kitchen scissors, cut tofu into smaller cubes. Set aside.

Make the sauce: In a large bowl, add garlic, ginger, vinegar, salt, pepper, labuyo, and green chilies, and mix well. Add onions and toss gently. Fold in mayonnaise. Add fried tofu and mix together. Serve garnished with more chilies.