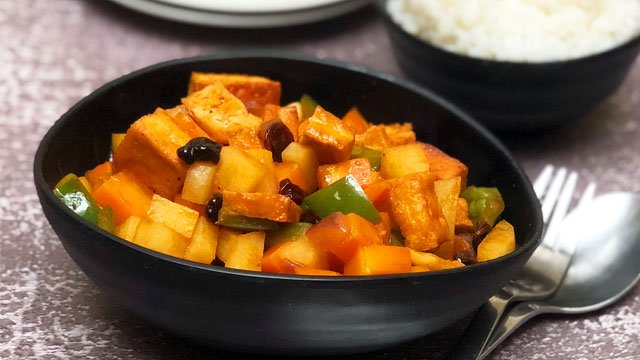 What are the ingredients in a menudo recipe? The list will include pork and liver cut into small cubes that will be simmered in a super savory sauce made from tomato sauce, soy sauce, and the sweetness from the raisins. You'll also find potatoes and carrots cut up into small pieces roughly the size of the pork, too. This is what you'll normally get in a classic bowl of this ulam recipe but if you're going meatless, you can definitely swap the pork for a meatless option such as tokwa or tofu. Going meatless when cooking is all about knowing how to treat the meat substitute in the dish you're trying to make. It can be as simple as tossing pre-fried tokwa into a pot of sauce. It can even be opening a package of freshly made tofu and serving it as is. You just let it get heated up in a little broth such as the case may be when making a miso
soup. For those who miss the taste of regular ulam meals but are making it with tokwa, you can add it in and let the sauce heat up the tokwa as it simmers or you can add in the extra step of frying the tokwa first. Frying the tokwa makes the outside golden brown but it also creates a firmer barrier to prevent the tokwa from disintegrating easily when tossed around in the sauce. With a thickened sauce as in the menudo, you'll want that extra layer of protection so the tokwa can not only withstand the tossing but also absorb and keep that delicious sauce in.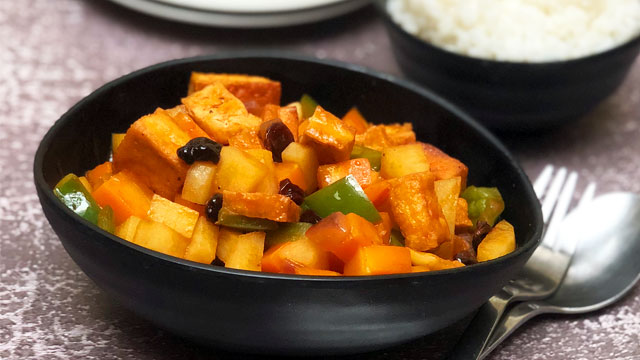 Tokwa Menudo Recipe
Menudo can still be delicious and filling when you make it meatless.
Ingredients
Tokwa Menudo Ingredients
1/4

Cup

Oil

Test oil notes for id 172231

3

2-inch blocks

Firm Tofu (tokwa)

Firm tofu inserted manually in db and json format for id 172231

6

cloves

Garlic

Sample garlic update for id 172231 by julious

1

medium

Red Onion

1

medium

Potatoes

1/2

medium

Carrot

2

tablespoons

Tomato Paste

1/4

Cup

Tomato Sauce

1/2

Cup

Water

1

teaspoon

Soy Sauce

1

tablespoon

White Sugar

1

tablespoon

Pickle Relish

1/4

Cup

Raisins

1

medium

Bell Pepper

Salt

Pepper
Instructions
On medium-high heat, heat oil in a pan and fry tokwa until golden brown. Set aside.

Discard half the oil, and saute the garlic and onions until onions are translucent.

Add the potatoes and carrots. Saute for 2 minutes.

Add in tomato paste, tomato sauce, water, soy sauce, sugar, and pickle relish. Add salt and pepper to taste. Simmer for 2 to 3 minutes. 

Add in the fried tokwa. Simmer until the sauce is reduced to half and vegetables are soft.  Make sure that each cube of tokwa is coated in sauce. 

Add in the raisins and bell pepper. Simmer for another 5 minutes. Serve with rice or use as the filling for pan de sal the next day when the tokwa has absorbed most of the sauce. 
ADVERTISEMENT - CONTINUE READING BELOW
Recommended Videos