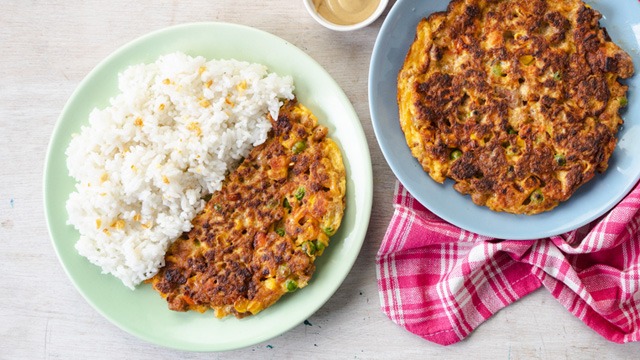 This tortang giniling recipe is fast enough to make for a great and hearty breakfast. Torta in Filipino is a kind of omelet that incorporates savory ingredients; in this case, giniling na baboy or ground pork! While giniling may refer to how the pork is prepared, it also refers to a savory dish made with ground pork, potatotoes, green peas, and carrots stewed in a light tomato sauce. In this case, tortang giniling means the latter: an omelet that is made with giniling na baboy, the classic Filipino savory ground pork dish. 
And did we mention how easy this recipe is? Here's how to cook tortang giniling: you just need to quickly stir fry ground pork (or use leftovers!) with a few seasonings, beat in an egg or two, and cook again into a thick omelet. It's a meal you can make ahead of time!
It's not just delicious, you'll also love that it's effortlessly flavorful. Not only is it a great way to transform your leftover giniling into a new dish; it's also a recipe you can turn to when you need something that's quick to cook on the table.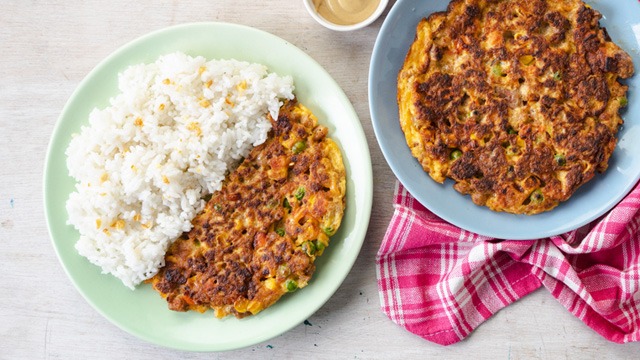 Tortang Giniling Na Baboy Recipe
This easy ground pork recipe is made heartier as an omelet.
Ingredients
Tortang Giniling Na Baboy Ingredients
1/4

Cup

Oil

divided and as needed

1

medium

red onion

peeled, chopped

3

cloves

Garlic

peeled, chopped

1

medium

native tomato

chopped

1/4

kilo

ground pork

1/4

Cup

store-bought spaghetti sauce

1

tablespoon

Butter

(or margarine)

1 1/2

cups

mixed vegetables

thawed

3

large

eggs

Salt

to taste

ground black pepper

to taste
Instructions
In a wok over medium heat, heat 2 tablespoons oil. Add onions then garlic, cooking just until aromatic and onions are translucent. Add tomatoes, and cook until softened.

Add ground pork, and spread into a single layer. Let pork sear before crumbling and then sauté until cooked through and no longer pink. Add spaghetti sauce, season to taste with salt and ground black pepper, and stir to mix. Cook until mixture simmers. Remove from heat.

In the same wok, melt butter and then add mixed vegetables. Season with salt and cook until just heated through. Add to the cooked ground pork, mix, and then set aside. (If desired, let cool completely and store, chilled, until ready to serve.)

When ready to cook, beat eggs and season with ground black pepper. Add pork mixture and stir to coat with eggs.

In a small frying pan over medium heat, heat remaining oil. Add about 1 cup of the pork mixture to the pan. Spread mixture until the edge of the pan to create an even layer. Cook until the bottom is seared. Flip, and cook the other side. Remove from heat once both sides are cooked through. Repeat with remaining pork mixture. Serve hot.