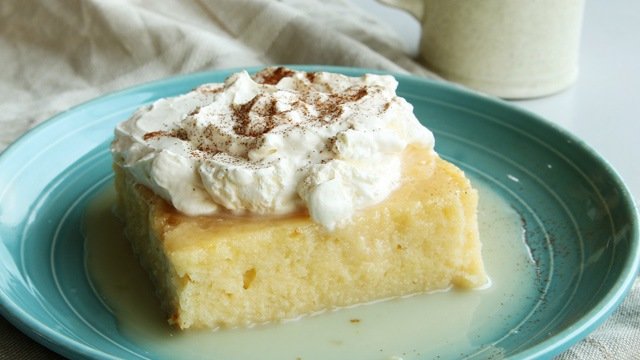 A tres leches cake is a simple butter cake that comes with a three-milk (tres leches) sauce. The cake is soaked with the milk sauce overnight, then served with more to top. Add a dash of cinnamon for extra flavor, but feel free to experiment with caramel sauce or sliced fruit, too.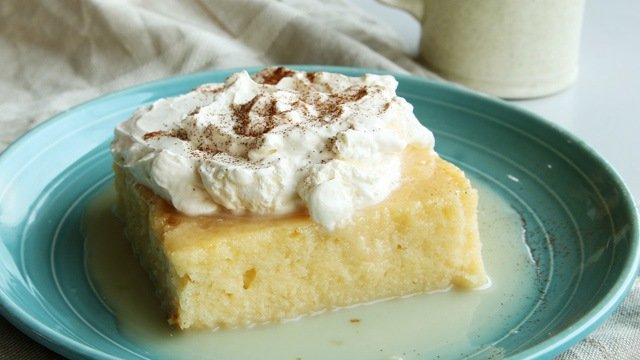 Tres Leches Cake Recipe
This simple butter cake is soaked in a three-milk sauce.
Ingredients
Tres Leches Cake Ingredients
1 1/2

cups

cake flour

sifted

1/2

teaspoon

baking powder

1/2

teaspoon

Baking soda

1/2

teaspoon

Salt

1/2

Cup

Butter

unsalted

1/2

cup plus 2 tablespoons

white sugar

2

medium

eggs

1/2

Cup

full cream milk

1

teaspoon

vanilla extract

1/2

Cup

condensed milk

1/2

Cup

evaporated milk

1/4

Cup

heavy whipping cream

1

Cup

heavy cream

whipped

cinnamon

to taste
Instructions
Preheat oven to 350°F. Grease 9-by-9-inch baking pan and line with parchment paper.

In a bowl, sift together the cake flour, baking powder, baking soda and salt.

In a separate bowl of an electric mixer fitted with the paddle attachment, cream the butter on low-medium speed for 2 minutes. Set the mixer on low and then gradually add the sugar. Set the mixer on medium speed and beat the butter and sugar for 4-5 minutes or until the mixture becomes a pale yellow and the texture is creamy and soft.

Add eggs, one at a time and scrape between each addition. Add in the vanilla and mix until combined. Add the dry ingredients and milk in alternating additions starting with the dry ingredients. Mix between each addition. Mix on low-medium speed until well combined.

Pour your cake batter into the prepared pan. Bake for 35 to 40 minutes or until a toothpick inserted comes out clean. Let the cake cook for 10 minutes.

Prepare the tres leches milk: mix the condensed milk, evaporated milk, and 1/4 cup heavy whipping cream (unwhipped) together.

Delicately poke the cake all over with a fork and pour half the milk mixture while the cake is still slightly warm.

To serve, cool completely, take the cake out of the pan and then pour the rest of the milk over the cake slices. In a stand mixer, whip cream and then spread on top of the cake. Top with cinnamon powder.