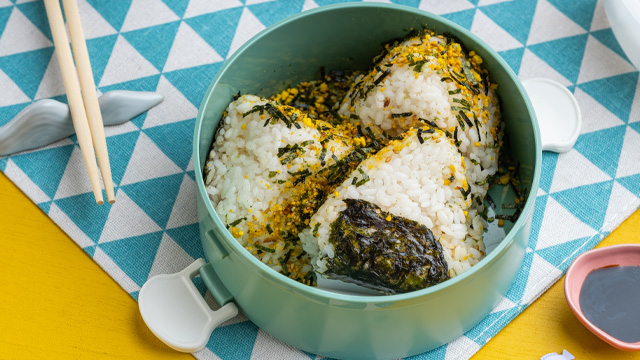 Do as the Japanese do and make portable tuna-stuffed onigiri to fill your kids' lunch bags. Use canned tuna to make these baon-worthy rice balls.
What Is Tuna Mayo Rice Balls?
A tuna mayo rice ball, more commonly known in Japan as an onigiri, is a sticky rice ball much like a sushi but bigger. The sticky rice or malagkit rice is formed around a portion of tuna mayo so it is in its center. This is then wrapped with nori or rolled in sesame seeds, furikake or Japanese rice seasoning, or other ingredients. 
How to Serve Tuna Mayo Rice Balls
These are hearty and handy to serve especially if on the go! But you can make it more appetizing. Here are other ways to serve this:
Roll in furikake: If you have kids and they have tasted furikare before, you know you'll have your hands full stopping them eating this rice topping straight from the packet! Do your best anyway especially when making these rice balls because it really does make these otherwise simple rice balls more appetizing. 
Make smaller balls:  These balls do not have to be so big! If you're having a hard time making them big, you can make them smaller. Not only will this make it easer for the kids to finish but makes it easy to squeeze the rice balls between your hands so they don't fall apart later. 
How To Cook Tuna Mayo Rice Balls
There is very little cooking done in this recipe beyond the rice since the canned tuna and the ingredients to make the filling are all ready to eat. 
Just a reminder about the rice: it should not be wet. Remember that the rice will have to stick together but cannot too wet that it is mushy when cooked. Err on the side of caution since you can always add more water if the rice is not yet cooked. 
Once the rice is cooked and cooled enough to handle with your hands, you should have the filling ready, too. This is just measuring ingredients and mixing so very easy and fast! Prepare also the sesame seeds, nori sheets, and any other toppings that you will want to use when the onigiri are formed. 
Making the balls will take more time and effort than any other step. To do this, it's best to use plastic wrap or better yet, an onigiri maker. These two will make your job easier. 
However, you can still do this with just your hands. You'll have to either oil your hands or wet them slightly as you work and form the rice into balls. 
Once formed, decorate as desired, wrap in parchment paper or foil, and pack them in containers immediately. 
Tips To Make Easy Tuna Mayo Rice Balls
1 Swap the filling for salmon or even chorizo. 
The filling can be different if you are not a fan of tuna. You can make a spicy salmon version or use ground chorizo for the filling if you're looking to make an onigiri that is different in flavor. 
2 Use plastic wrap or an onigiri maker. 
This is harder to make than it looks because the rice ball really needs to be packed well. To do this, you need to be able to squeeze the rice tightly, and here is where plastic wrap or an onigiri maker comes in to save your baon.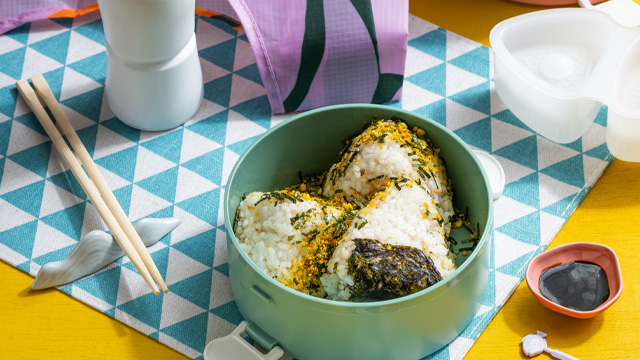 Tuna Mayo Rice Balls Storage Tips
1 Yes, you can refrigerate! 
The cold rice will make these easy to form and will hold their shape better. However, the downside of refrigerating these is that the nori sheets will soften. If that's acceptable, go and chill them until ready to pack. 
2 Don't freeze.
As with many rice meals, freezing is not recommended and especially for these rice balls! 
Watch: How to Make Tuna Mayo Balls Recipe Video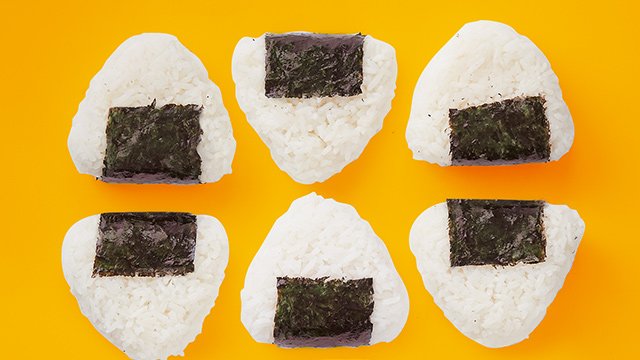 Tuna Mayo Rice Balls Recipe
Use canned tuna to make these baon-worthy rice balls.
Ingredients
Tuna Mayo Rice Balls Ingredients
1

Cup

Japanese rice

washed

1

teaspoon

Salt

1

3-inch piece

konbu sheet

2

cups

water

1/4

Cup

Canned Tuna Chunks In Oil

3

tablespoons

Japanese mayonnaise

1

teaspoon

rice wine vinegar

1/2

teaspoon

sesame oil

1

teaspoon

Sriracha

Optional
Instructions
Cook Japanese rice, salt, piece konbu kelp, and water in a rice cooker.

Meanwhile, mix together tuna chunks in oil, Japanese mayonnaise, rice wine vinegar, sesame oil, and Sriracha in a bowl until well combined; set aside.

Transfer cooked rice to a medium heatproof bowl and let cool until just warm. Divide rice into four portions. To assemble, place 1 rice portion on a piece of plastic wrap and shape into a disk. Place 1 to 2 teaspoons tuna mixture on the center, then shape into a fat triangle using the plastic wrap. Repeat with remaining ingredients. Wrap one side of each triangle with a piece of dried nori, using water to help the nori stick to the rice.
Try These Other Yummy Recipes:
ADVERTISEMENT - CONTINUE READING BELOW
Recommended Videos