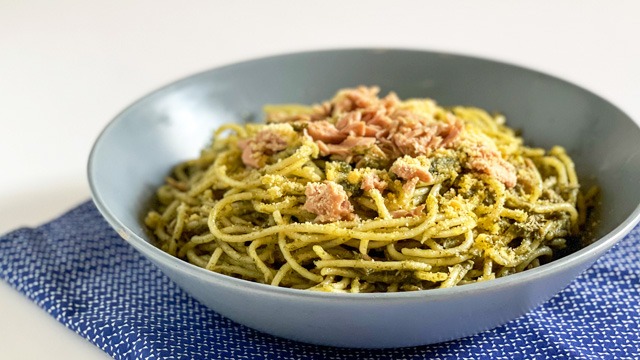 Updated as of March 29, 2023 by Jasper Castro.
What is Tuna Pesto Pasta?
Tuna pesto pasta is a delicious twist on the classic Italian pesto pasta recipe that makes ingredients more accessible while adding more healthy, lean tuna for protein for a more filling, complete meal. This recipe easily upgrades the basic recipe as the herby freshness of the basil sauce perfectly complements the strong distinct flavor of tuna.
This dish, as with all pesto dishes, is inspired by Pesto Genovese which traditionally uses fresh Italian basil leaves, DOP pecorino cheese, DOP parmesan cheese, pine nuts, olive oil, garlic and salt all blended strenuously together with a marble mortar and pestle. (DOP stands for Denominazione d' Origine Protetta, which is Italian for Protected Destination of Origin. It simply means these cheeses are authentically made in Italy). The process of crushing it together to paste-like consistency with a "pestle" is what gives this dish its name.
However, most modern recipes like this one will call for an easier and faster way to blend the ingredients together using mixer or food processor. Nowadays, pesto has gone beyond being just pasta sauce and has been adapted into different versions that use localized ingredients such as this one.
Table of Contents
• How to Serve Tuna Pesto Pasta
• How to Cook Tuna Pesto Pasta
• Tips to Make Easy Tuna Pesto Pasta
• Tuna Pesto Pasta Storage Tips
How to Serve Tuna Pesto Pasta
For purists, pesto should be mixed into freshly cooked al dente linguine pasta. Pesto typically has a very strong flavor so linguine offers just the right amount of surface for the perfect sauce to noodle ratio. If you particularly love richer flavors and want more of the sauce in every bite, choose penne, fusilli, or angel hair pasta.
Don't tell your Italian friends, but a little squeeze of lemon can bring a plate of herby, earthy pesto to life with its bright, fruity, citrus note. Don't be afraid to add as much cheese as your heart desires.
If you're in love with the flavor of pesto, then go beyond pasta and use this sauce for sandwiches, for chips, or as far as your imagination can take you. Pesto sauce goes well with a lot of dishes, and it's easy to add a twist to recipes with pesto sauce!
How to Cook Tuna Pesto Pasta
To cook this quick, easy, and extremely flavorful tuna pesto pasta, bring all your ingredients together except for the tuna in a blender or food processor. Blend until you get a smooth consistency. Then, mix this pesto sauce with tuna on a hot pan. Then, transfer to plate and garnish (or shower if you prefer) with parmesan cheese.
Tips to Make Easy Tuna Pesto Pasta
1 Wash your basil leaves and dry them well before blending.
Although you are heating your pesto up, it's best to avoid simmering or boiling it so you can still get maximum fresh flavor from your herbs. Thus, it's important to make sure your fresh basil is clean and dry before blending to help make sure it stays good for longer.
2 Tweaking your ingredients will tweak the taste.
Classic Italian pesto will call for Italian basil leaves but you can use locally sourced basil, or the sweeter Thai Basil. Though they'll all have that strong, pungent, herby flavor, every different kind of basil will offer its unique flavor.
ADVERTISEMENT - CONTINUE READING BELOW
Recommended Videos
3 You can grow basil easily!
Basil is extremely easy to grow! You can buy ready pots and get them to flourish or grow them from seed. Yes, this takes time and dedication, but you'll taste the difference when consuming freshly plucked basil leaves.
How to Store Tuna Pesto Pasta
1 Store the sauce and pasta separately
If one goes bad before the other one, it's a sigh of relief. Plus, you can always easily cook fresh pasta which can instantly heat up refrigerated sauce once mixed together.
2 Store the sauce topped with oil
In preserving food, air is the enemy! To keep your sauce fresh for longer, top with a layer of olive oil which will keep air from touching the surface of the pesto.
3 Make sure your containers are clean
The more sterile your containers are, the longer your pesto sauce will keep, the more easy pesto dishes you can enjoy!
Tuna Pesto Pasta Recipe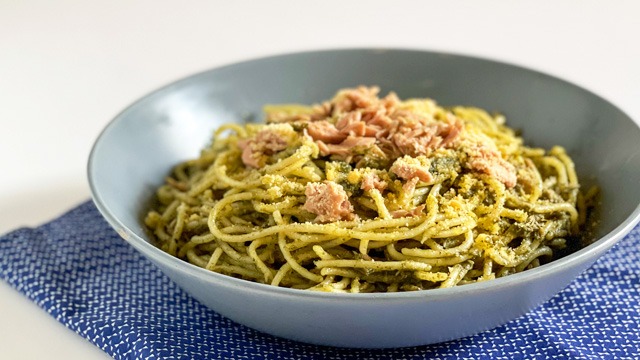 Tuna Pesto Pasta Recipe
This delicious pasta is fast and easy to make.
Ingredients
Tuna Pesto Pasta Ingredients
1

Cup

fresh basil leaves

3

cloves

Garlic

peeled

3

tablespoons

roasted cashew nuts or toasted pine nuts

1/3

Cup

grated parmesan cheese

more for garnish

1/3

Cup

olive oil

2

180-gram cans

tuna in oil

1

500-gram pack

spaghetti

cooked according to package directions

Salt

to taste

ground pepper

to taste
Instructions
In a food processor or blender, combine all the ingredients for the homemade pesto: basil, garlic, nuts, cheese, and olive oil. Process until finely chopped. Season with salt and pepper, and set aside.

In a small pan, mix the tuna with oil and the freshly made basil pesto. Turn off the heat. Toss the mixture in the freshly cooked pasta. Transfer to a bowl, and garnish with Parmesan cheese.