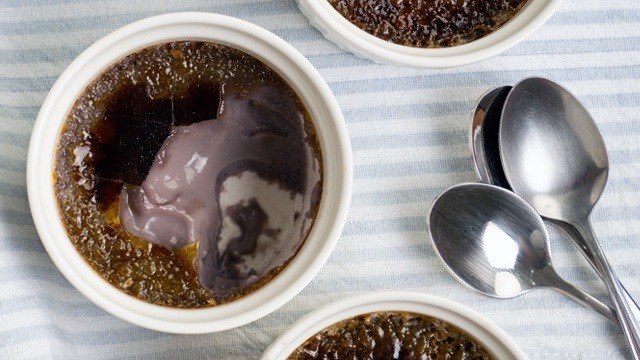 Delicate and light, this creme brûlée version is infused with ube halaya. Use a culinary torch to burn the sugar until it's caramelized to achieve the signature hard candy surface that you crack open before enjoying. 
Ube Creme Brulee Recipe
Think leche flan but lighter, with a crackly sugar layer in a delicate lavender hue.
Ingredients
Ube Creme Brulee Ingredients
1

medium

Egg

4

medium

egg yolks

1/2

Cup

sugar

more for caramelizing

1/2

Cup

ube halaya

2

cups

heavy cream

1

teaspoon

vanilla extract

1/8

teaspoon

Salt

blue food coloring

Optional

red food coloring

Optional
Instructions
Preheat your oven to 325 degrees F (180 degrees C) and place 5 medium-sized ramekins in a large baking dish. Set aside.

In a large bowl, beat egg yolk, whole egg, and sugar together until the mixture is light in color. Add and whisk in ube halaya until well combined, then set aside.

In a small saucepan over low heat, slowly heat cream, stirring occasionally, making sure it doesn t come to a boil. Turn off the heat once hot, then add vanilla extract and salt. Mix well.

Temper the egg mixture by gradually adding 1/2 cup of the cream mixture at a time to the egg mixture, whisking vigorously to ensure that no egg yolk clumps are created. Continue to slowly add the remaining cream mixture to the egg mixture until well mixed. Optional: Add a few drops of red and blue food coloring to achieve a more vibrant color.

Pour custard into ramekins and place ramekins on the prepared baking dish; fill dish with boiling water until halfway up the sides of the dishes. If desired, strain mixture through a fine-mesh sieve or strainer before filling ramekins and discard any cooked egg. Bake for 30 minutes or until the custard is barely set.

Remove ramekins from the oven. Allow the custard to cool completely on a wire rack, then refrigerate for several hours overnight.

Immediately before serving, top each dish with about a teaspoon and a half of sugar in a thin layer. Use a culinary torch to caramelize the sugar, or place the ramekins in a hot oven with only the top heating element turned on for 2 minutes until the sugar has melted and browned slightly.