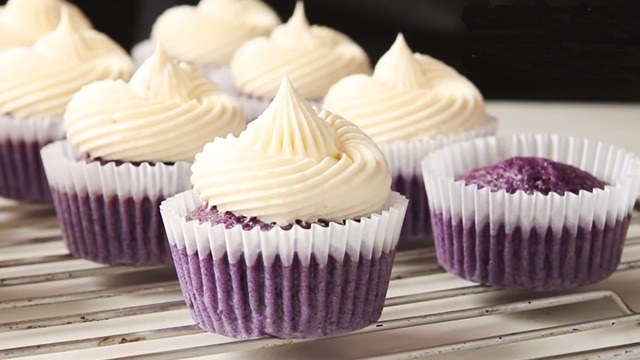 This cupcake recipe is infused with ube halaya to make bright and moist ube cupcakes. You not only get a dose of real ube jam in these cupcakes but you also taste the earthy ube flavor in the cupcake in combination with the creamy and nutty coconut in the buttercream frosting.
What Is Ube Cupcake With Coconut Buttercream?
Don't be fooled! Ube is not a sweet potato. It looks like a very dirty and hairy tuber that might also look like the rough bark of a tree. But underneath the stringy outer layer is the deep, dark purple flesh that delivers the gorgeous purple color that makes ube desserts so popular to post on social media.
The peel of the ube is actually very thin and the most highly pigmented part is just under this. The best way to get to it is to thinly remove it, preferably with gloves since the pigment does stain. The ube is best steamed or boiled until tender and then normally turned into ube jam also known as ube halaya. Ube halaya is a mixture of sugar, fresh carabao milk, and the mashed ube but many substitutes the milk with evaporated milk or the sugar and the milk with condensed milk. A little butter or margarine is stirred in to create a creamy but addictive mixture that many eat straight from the jars or mix the jam into their favorite desserts.
This cupcake recipe uses ube halaya to deliver real ube flavor but the lovely color does become muted when mixed with other colors. To combat this, a little food coloring is added to enhance ube's natural hue. Ube's earthy taste is a delicious complement to creamy and nutty coconut and it's a common combination to find. Here, the coconut is added into the buttercream so it's a sweet coconut flavor that accompanies the ube cupcake base.
How To Serve Ube Cupcake With Coconut Buttercream
The cupcake is always best served at room temperature so that the buttercream is not too hard to bite into. You can top these with shredded macapuno or the gelatinous strands from a special kind of coconut.
How To Make Ube Cupcake With Coconut Buttercream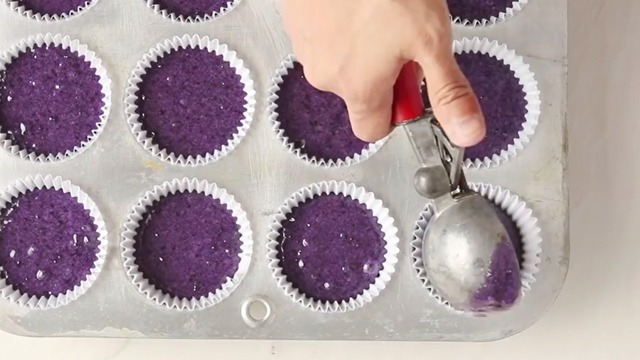 The cupcake batter is easy! The most difficult part is finding a great-tasting ube halaya to use for your cupcakes. Eggs, sugar, and oil are mixed together to create the liquid part of the cupcake batter. Ube halaya is mixed in with the liquid ingredients since this is will be harder to blend well after the flour is added. Ube flavoring and coloring are added at this point, too.
The flour, baking powder, and salt are folded in, and it's ready to divide into the prepared cupcake tin to be baked.
ADVERTISEMENT - CONTINUE READING BELOW
Recommended Videos
While the cupcakes are baking, the buttercream frosting can be made. This is a simple American buttercream which means powdered sugar, butter, and a little liquid to loosen the mixture. In this case, it's coconut cream or kakang gata that gives this buttercream its delicious creamy and nutty flavor. Pipe these onto the cooled ube cupcakes, and you're ready to serve!
Tips Make Moist Ube Cupcake With Coconut Buttercream
1 Make it into a loaf!
We know cupcakes are adorable and easy to serve, but we also know that an ube cake loaf would be a great idea, too, for those with less time on their hands. Just pour the batter into two banana loaf tins instead of cupcake tins and bake until done. Spread on the frosting (No need to pipe!) and only slice when ready to serve. Easy!
2 No cake flour? Use all-purpose.
Cake flour is a wonderful ingredient to use for tender cakes, cupcakes, and even extra fluffy pancakes that you want to remain soft. However, if you don't have it, don't worry! Just use all-purpose flour as a substitute. Just use the same amount (1 cup) but remove 1 tablespoon.
How To Store Ube Cupcake With Coconut Buttercream
Cupcakes are easy to store since you just need to fit them into a container, cover, and refrigerate for long storage times. If you're certain you'll consume these cupcakes within the next three days, you can store these on your kitchen counter (or dinner table!) covered so it's easy access when it's time for dessert or merienda.
Watch: Ube Cupcake Recipe With Coconut Buttercream
Ube Cupcake Recipe With Coconut Buttercream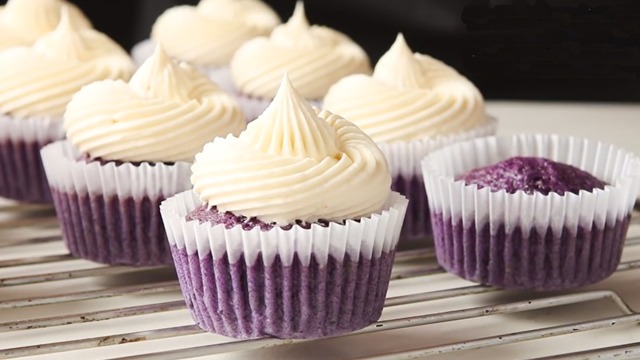 Ube Cupcake Recipe With Coconut Buttercream
Vibrant ube in cupcake form!
Ingredients
Ube Cupcake Ingredients With Coconut Buttercream
2

large

eggs

3/4

Cup

white sugar

1/2

Cup

vegetable oil

1

Cup

ube halaya

1

teaspoon

ube-flavored food coloring

or more as desired

1

Cup

cake flour

1

teaspoon

baking powder

1/2

teaspoon

Salt

3/4

Cup

unsalted butter

softened

4

cups

Powdered SUgar

sifted

1/2

Cup

coconut cream (kakang gata)

more if needed
Instructions
Preheat oven to 325 degrees F or 160 degrees C. Line a 12-cup muffin pan with cupcake liners Set aside.

In the mixing bowl for a mixer with the beater attachment, beat eggs, oil, and sugar together until well mixed. Add ube halaya, and beat until well combined. Stir in ube flavoring. 

Sift cake flour and baking powder together over ube mixture. Sprinkle in salt and fold in flour. Mix until just well blended. Using an ice cream scoop, divide batter into the prepared cups. 

Bake cupcakes in the preheated oven for 12 minutes or until tops spring back when lightly pressed and a toothpick inserted into the centers of each cupcake emerges cleanly. Cool completely a wire rack. 

Meanwhile, make buttercream: In the bowl for a mixer with the whisk attachment, cream butter until light and creamy. Add sugar to the butter mixture by the cupful, alternating with coconut cream. Whisk until light and fluffy. 

To assemble, decorate cooled cupcakes with coconut buttercream. Lay macapuno strands on top if desired.