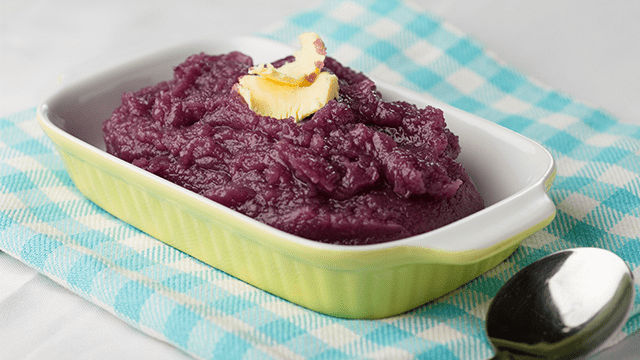 Ube halaya or halayang ube is a Filipino dessert made from boiled and mashed ube, milk, and butter. Ube is called purple yam in English and is a type of tuber that is endemic to Southeast Asia and is a widely popular species of yam in the Philippines.
This creamy purple jam can be a standalone dessert; unlike Western jams that are usually used as spreads or pie fillings, the most common way that Filipinos enjoy ube jam is simply by eating it as is, straight from the jar.
Ube jam is also a staple in other Filipino delicacies like halo-halo, and it can also be used as a spread for breakfast pandesal. It's a versatile jam that can also be used in baked products. You can use it to make ube cheesecake, ube cupcakes, ube macapuno cake, and many more.
Aside from pastries, ube pairs well with cheese and was the star of the ube cheese pandesal craze. It's amazingly delicious when mixed with cassava to make ube and cassava cake! The possibilities are endless! 
While it's quite simple to learn how to cook ube halaya, it needs a lot of patience and there are a few tips and tricks to make it easier:  
• To prep the ube or purple yam, you can chop them into smaller pieces after washing and boil them without peeling them. Once they are fork-tender, let them cool for a few minutes; you can peel them just as soon as they are cool enough to handle but still warm. The best time to mash them is also while they're still warm.

• It's also best to use a heavy-bottomed pot to prevent the bottom from burning.

• Stirring constantly over low heat is key, so make sure not to leave your pot for too long. Ube is a starchy yam, so while its starch content will naturally thicken the jam, how long you cook it will affect its consistency, too. The longer it's cooked, the thicker it will be.
Whatever ube halaya is paired with, it's sure to be a crowd-pleaser. The rich purple color of the dessert also makes it totally Instagram-worthy!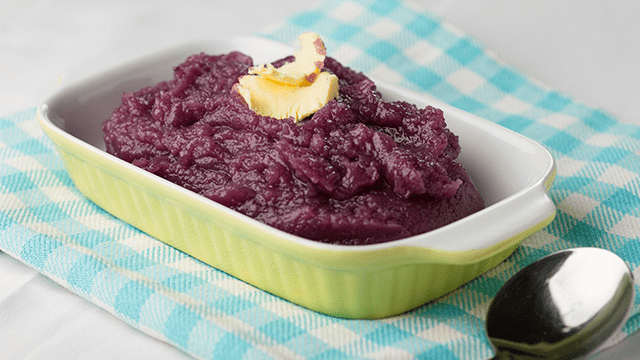 Ube Halaya Recipe (Purple Yam Jam)
The ube jam is also used in Filipino delicacies such as halo-halo.
Ingredients
Ube Halaya Ingredients (Purple Yam Jam)
1

kilo

uncooked purple yam

1

can

condensed milk

1

teaspoon

vanilla extract

200

Grams

Butter

1

can

evaporated milk

1

Cup

white sugar
Instructions
Boil the purple yam until tender then mash or grate.

In a pot, melt butter then add the evaporated milk, condensed milk, sugar and vanilla extra. Stir constantly until well-combined.

Add the purple yam then stir until the texture of the mixture becomes really thick (about 15 to 20 minutes over low fire). You may also add a drop of food coloring (optional).

Transfer the mixture to a mold or any container and let the temperature cool down.

Refrigerate for at least 2 hours. Top with a dollop of butter when serving (optional).

READ THESE: MORE UBE RECIPES
ADVERTISEMENT - CONTINUE READING BELOW
Recommended Videos