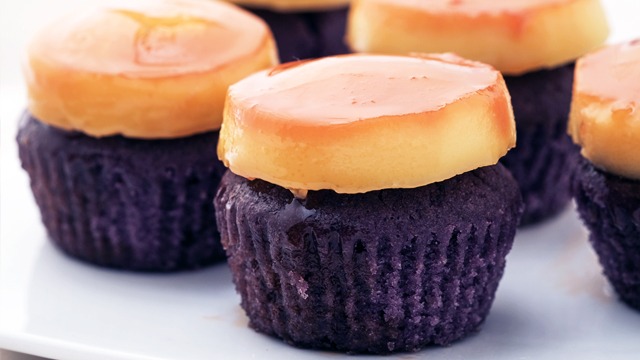 Earthy ube is the perfect pairing for the sweet, creamy leche flan. There is simply something special about the way that these two Filipino desserts complement each other. And in this recipe, we're bringing the best of both worlds by combining delicious ube cupcakes with a creamy leche flan topping. No frosting needed!
How To Make Ube Leche Flan Cupcakes
1 Make your leche flan toppings ahead of time. 
It takes leche flan a while make. You have to bake or steam, let set, and then chill it because using for another recipe or serving since it it best when it has been completely chilled. For this recipe, you can make assembling the ube leche flan cupcakes easier by making the leche flan a day before you bake the ube cupcakes. It's better to do the leche flan toppings in advance because these store better than the cupcakes.
2 Bake, don't steam, your leche flan. 
The key to making velvety, smooth leche flan is to cook it as gently as possible, and baking leche flan in a water bath will do just that. Besides, the leche flans in this recipe are meant to be individual cupcake toppings, so it is baked in a cupcake tin and these are usually too big for steamers.
3 Don't overmix your cupcake batter.
 If you are hand mixing, use a rubber spatula instead of a whisk. This helps you do two things. Firstly, it allows you to mix without creating too many bubbles. Secondly, the rubber spatula is great at scraping every last bit of that delicious batter! If you have a stand mixer, make sure to use the paddle attachment and keep your speed just enough to mix, not whip, the batter.
4 Store your cupcakes properly to keep them fresher for longer. 
If you want to serve these cupcakes at a later date, it's better to store them separately. For the leche flan, simply keeping it refrigerated in a container covered by cling wrap is fine. For the ube cupcakes, it's better to cling wrap them directly or keep them in an airtight container and freeze them for long storage. Otherwise, they can keep in the refrigerator for up to three days without turning hard.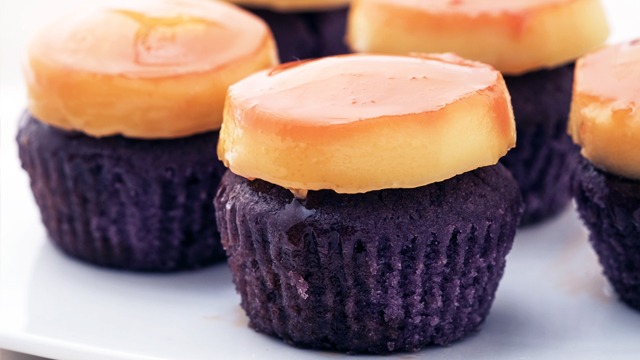 Ube Leche Flan Cupcakes Recipe
Ube + Leche Flan is going to be your new favorite cupcake combo.
Ingredients
Ube Leche Flan Cupcakes Ingredients
2

large

eggs

3/4

Cup

sugar

1/2

Cup

Oil

3/4

Cup

ube halaya

1/2

teaspoon

purple food coloring

1

Cup

all-purpose flour

2

teaspoons

baking powder

1/2

teaspoon

Salt

9

large

egg yolks

1

can (300 ml)

condensed milk

1

can (370 ml)

evaporated milk

1/2

Cup

sugar
Instructions
Preheat your oven to 325 degrees F (160 degrees C). Prepare your 12-mold cupcake tin by lining the molds with cupcake liners. Set aside.

In a large bowl, whisk eggs, sugar, oil, ube halaya, and purple food coloring until homogenous. Sift flour, baking powder, and salt over wet ingredients. Mix well.

Scoop batter into prepared cupcake liners. Bake in the oven for 19 minutes or until a toothpick inserted into the cupcake comes out clean. Cool cupcakes.

Prepare Leche Flan: whisk together egg yolk, condensed milk, and evaporated milk into a small bowl. Set aside.

Create caramel by melting white sugar in a saucepan. Pour 1 teaspoon of caramel into another 12-mold cupcake tin, unlined. Let cool and harden before pouring the egg yolk mixture over the caramel.

Bake in a water bath for 30 minutes or until a toothpick inserted into the flan comes out with clean or with small cooked bits. Cool completely and remove each from its cupcake tin mold. Keep chilled.

To serve, assemble cupcakes by topping each cupcake with a mini leche flan and scooping any caramel over each. Serve immediately.
ADVERTISEMENT - CONTINUE READING BELOW
Recommended Videos