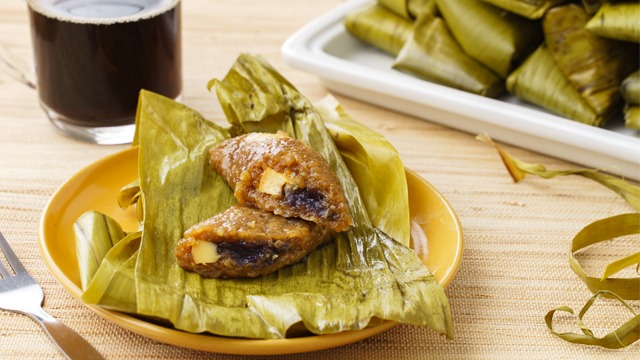 We love suman, but we have to admit, not all kinds of kakanin are made equal. This suman rises above them all by combining two other Filipino favorites: leche flan and ube halaya! With every log of suman, you get creamy, earthy ube, and mellow, velvety, leche flan. Plus, the sticky rice is cooked in coconut cream, coconut milk, and muscovado sugar, which give it a distinct delicious flavor all on its own. It's so good you won't even need sauce!
For ube halaya, you can make your own based on our recipe here, or you can just buy your favorite jar of halaya. For leche flan, you can use our recipe or buy ready-made leche flan.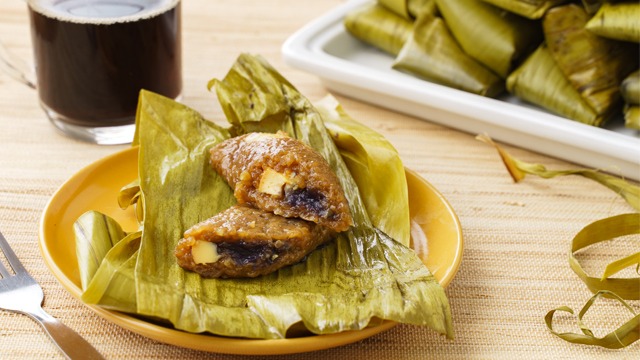 Ube Leche Flan Suman Recipe
This has three Filipino favorites in one!
Ingredients
Ube Leche Flan Suman Ingredients
2

cups

bigas malagkit (sticky rice)

3

cups

water

as needed

1

(400-ml) can

coconut cream

1

(400-ml) can

coconut milk

1/4

teaspoon

Salt

1/4

Cup

muscovado sugar

2

bundles

banana leaves

1 1/2

cups

ube halaya

2

llaneras

leche flan
Instructions
In a pot, wash sticky rice. Then, soak sticky rice in enough water to cover the rice and let soak for atleast three hours or overnight.

After soaking, add coconut cream, coconut milk, salt, and muscovado sugar into your pot. Place pot on high heat and mix until sugar has fully melted.

Once mixture simmers, lower to medium heat and stir while cooking for 30 minutes, or until rice is tender and coconut oil has separated from the mixture. Place mixture into a colander, letting the oil drip into a bowl. Set aside.

Prepare the banana leaves: Pass each of the banana leaves over an open flame. Wipe each clean with a paper towel. Cut leaves into rectangles, at least 6x9-inches each. Set aside.

Assemble the suman: Drop ¼ cup of the rice mixture at the center of a prepared banana leaf. Flatten the rice mixture into a rectangle. Add one tablespoon of ube on one side of the rice mixture. Shape the ube into a rectangle. On the other side, add a rectangle of leche flan around the same size of the ube. Roll and form into a log. Fold the two overhanging ends of the banana leaves inwards. Roll with another banana leaf. Set aside and repeat with another suman. Place two suman together, the folded ends together. Tie with a slim strip of banana leaf. Repeat with the remaining rice.

Steam for 40 minutes. Serve.