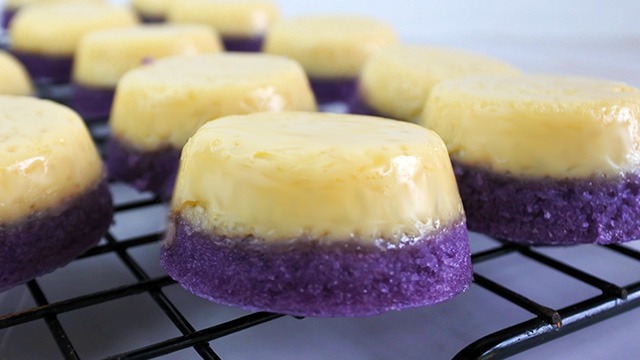 This steamed rice cake dessert is a combination of ube puto and leche flan. Also known as a leche puto, this addictive kakanin is a vibrant and appetizing twist on your usual dessert. If you love either of these two classic Filipino desserts, you'll love that you get a taste of both in one bite in this ube leche puto recipe. 
These are deliciously sweet. However, those who prefer their puto less sweet than their leche flan can lessen the amount of sugar in the puto recipe to as little as 1/4 cup instead of the normal 1/2 cup.  
READ THESE: MORE PUTO AND LECHE FLAN RECIPES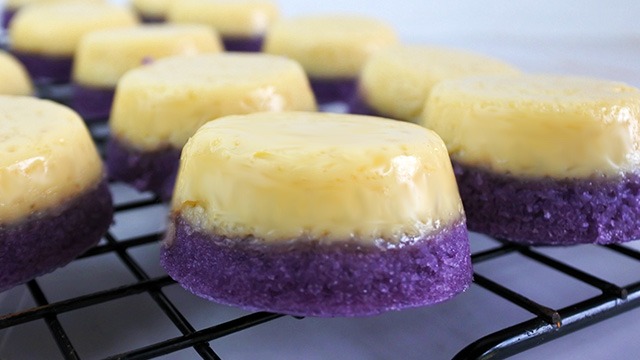 Ube Leche Puto Recipe
Ube puto + leche flan = new obsession!
Ingredients
Ube Leche Puto Ingredients
1/2

Cup

ube halaya

1/2

teaspoon

ube flavoring

or as desired, optional

1/2

Cup

sugar

1/2

Cup

evaporated milk

1/2

Cup

water

1

medium

Egg

1

tablespoon

melted butter or margarine

1/4

teaspoon

Salt

1

Cup

rice flour

1

tablespoon

baking powder

5

medium

egg yolks

1/2

Cup

evaporated milk

1/2

Cup

condensed milk
Instructions
Prepare a steamer with water. Bring to a boil then lower heat to Low. Lightly butter a 12-cup mini muffin tray or 30 mini puto cups. Set aside.

Make the puto batter: In a medium bowl using a whisk, combine ube halaya, ube flavoring and food coloring (if using), sugar, evaporated milk, water, egg, butter, and salt until the ube halaya is well blended. Add and whisk in rice flour and baking powder until smooth. Set aside.

Make leche flan batter in a separate bowl. Stir together egg yolks, condensed milk, and evaporated milk. Strain the leche flan batter through a sieve into another bowl. Using a tablespoon, fill each prepared muffin tray about halfway up to make room for the puto batter.

Place in the prepared steamer, cover, and set a timer for 2 minutes. After 2 minutes, fill the muffin cups almost full with the ube puto batter. Cover and steam for another 3 minutes.

Remove from the steamer when the puto are set. Cool slightly for about 10 minutes before loosening and removing from the molds. Cool completely on a cooling rack before serving. READ THESE: MORE PUTO AND LECHE FLAN RECIPES Goldilocks-Style Butter Puto Recipe Leche Flan Puto Recipe