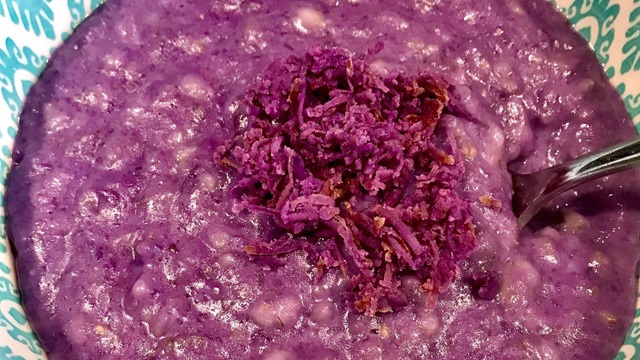 Ube Oatmeal is what we call a healthy breakfast game changer in our family. We all love oatmeal and champorado so I thought, why not combine both? Unlike champorado, I feel less-guilt when eating this. If you are minding your sugar, you can add skim milk instead of condensed and just add your preferred sugar substitute. Our Ube is such a versatile ingredient that its use is limitless with just a little creativity. 
READ THESE: MORE UBE RECIPES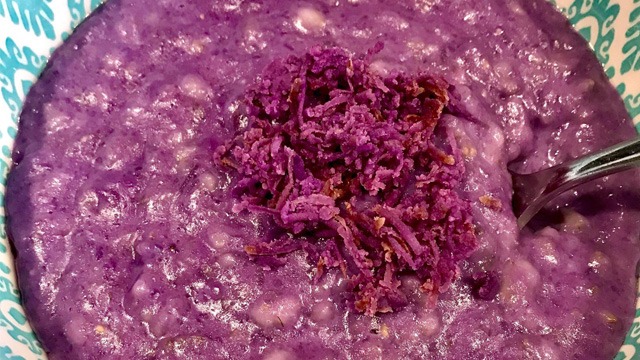 Ube Oatmeal Recipe
Here's a unique take on the classic Pinoy flavor!
Ingredients
Ube Oatmeal Ingredients
4

cups

water

1 1/2

cups

old-fashioned oats

4

tablespoons

ube halaya

1/2

Cup

condensed milk

4

drops

ube flavoring
Instructions
Bring water and oatmeal to a boil in a saucepan or pot.

Place the lid on, but with a slight opening to let the steam out. Cook for 5 minutes. (The water should be boiling at the 5-minute mark.)

Stir continuously until the oatmeal has thickened. (We are going for the champorado-like consistency.)

After 4 minutes of stirring, you may add the rest of the ingredients: ube halaya. condensed milk, and ube flavoring. Mix them all together until well combined.

At this point, turn the heat down to avoid the oatmeal from sticking on the bottom. Serve and enjoy! READ THESE: MORE UBE RECIPES No-Bake Ube Gelatin Recipe Ube Leche Flan Cupcakes Recipe