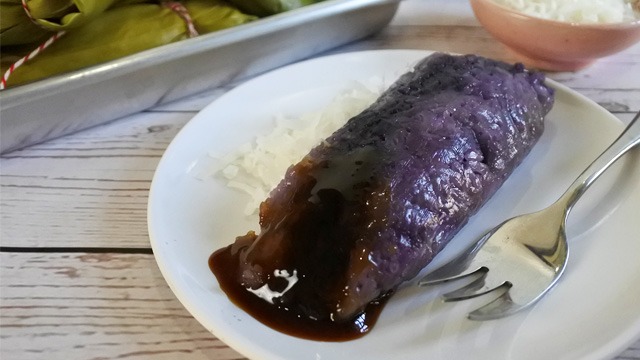 The suman is a popular kind of kakanin, so this version is made extra delicious. This version is not only flavored with ube, making it a lovely lavender color, but it is also stuffed with real ube halaya, too. We use both ube flavoring and lihia to give it that distinct fluffiness and taste that makes this steamed rice cake tasty. Make it complete with niyog and homemade latik. 
Remember to prepare the banana leaves for wrapping: pass the bananas over an open flame or heat source to gently soften the leaves. This will make the leaves less brittle and prevent the leaves from easily tearing while wrapping. Cut banana leaves into rectangles at least 9″ by 6″ inches sheets.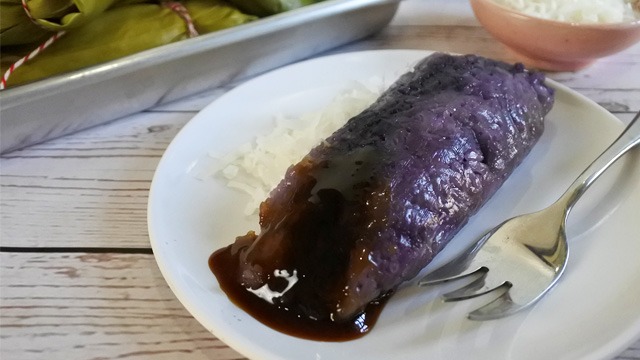 Ube Suman Recipe
Two kinds of ube make this suman delicious.
Ingredients
Ube Suman Ingredients
2

cups

malagkit rice

rinsed and dried

1/4

teaspoon

lihia

or as needed

2

teaspoons

ube flavoring

or as desired

2 1/2

cups

water

1/2

Cup

ube halaya

banana leaves

softened

coco jam

to serve

grated coconut (niyog)

to serve
Instructions
In a large bowl, stir together malagkit rice and lihia. Set aside 10 minutes or until the rice dries and turns a pale yellow hue. Stir in ube flavoring until evenly colored. Transfer to a rice cooker. Pour in water and turn on. Cook until the rice is cooked through.

Prepare the wrapping station: softened banana leaves, kitchen twine or banana leaf strips, scissors, and ube halaya. Place a banana leave sheet onto your surface. Scoop about 1/2 cup ube rice (about 110 grams) onto the center of the banana leaf. Form into a long shape and place ube halaya into the center. Cover with the rice and wrap rice with the banana leaf and twine. Repeat with each banana leaf.

Place stuffed suman in the rice cooker with the steamer insert and pour in about 1 cup water. Set to cook and let cook about 20 minutes or until heated through. Serve with niyog (grated coconut) and store-bought sticky latik (coco jam). (Alternatively, serve with homemade latik.)