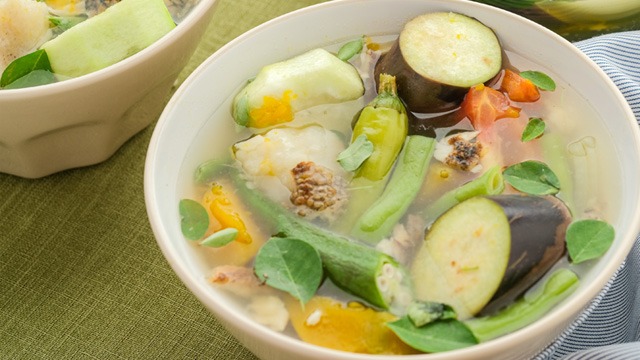 Down in Visayas in the Southern Philippines, there is a boiled vegetable dish that is popular. Called utan bisaya, this vegetable soup is a simple dish that's loaded with delicately boiled vegetables and flavored with flaked fish. If you enjoy soups that don't mask the flavors of its ingredients, you'll love this recipe.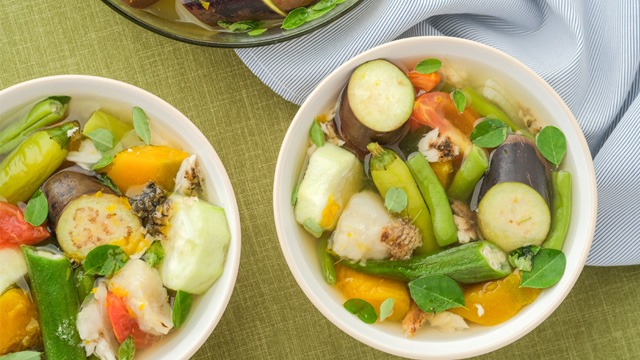 Utan Bisaya Recipe
This regional soup is loaded with the freshest vegetables.
Ingredients
Utan Bisaya Ingredients
6

cups

water

1

Cup

squash

cubed

2

pieces

gabi

peeled, cubed

1

1-inch piece

ginger

peeled, sliced

1

Small

red onion

quartered

3

Small

tomatoes

quartered

10

pieces

green beans (abitsuelas)

sliced

6

pieces

okra

sliced

1

pieces

eggplant

sliced into rounds

2

pieces

green finger chilies (siling pangsigang)

sliced

1

medium

patola

sliced into rounds

2

Pieces of freshly fried fish (tilapia or lapu-lapu)

1 1/2

tablespoons

fish sauce (patis)

Salt

to taste

1/2

Cup

malunggay leaves
Instructions
Pour water into a pot over medium-high heat. Add squash, gabi, and ginger; bring to a boil then simmer for 5 minutes or until almost tender.

Add onion, tomatoes, green beans, and okra. Lower heat and simmer for 5 minutes.

Add eggplant, chilies, patola, and flaked fish. Simmer for 2 minutes.

Season with fish sauce and salt. Stir in malunggay leaves. Serve hot.