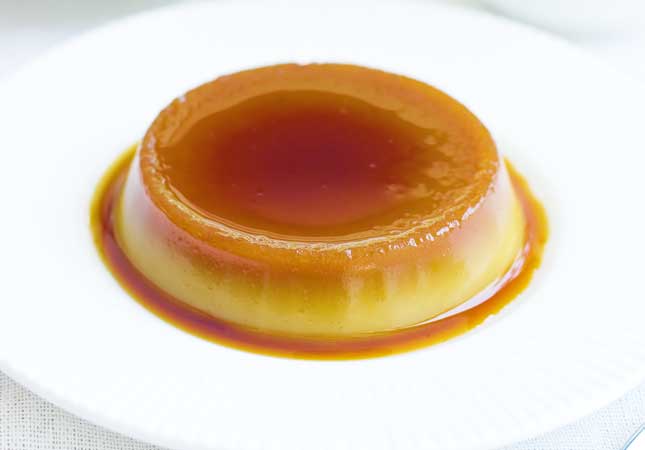 This vegan version of leche flan is still as creamy and yummy as its infamous forefather but without the cholesterol, white sugar, and excess fat this time. Make this healthy and creamy vegan leche flan today?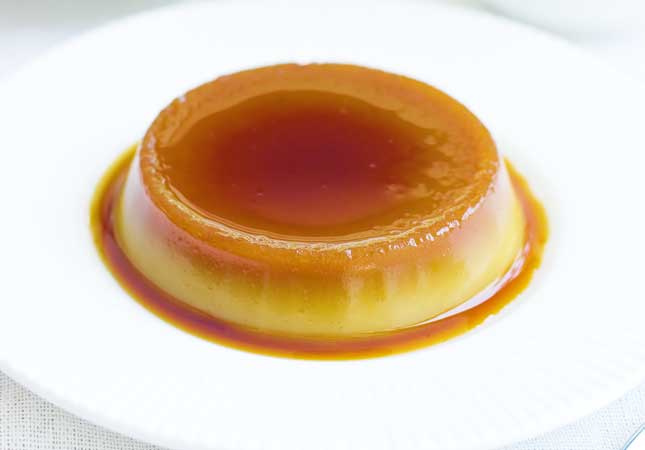 Vegan Leche Flan Recipe
This version is still as creamy and yummy but without the cholesterol, white sugar, and excess fat.
Ingredients
Vegan Leche Flan Ingredients
1

Cup

Washed Sugar

1/4

Cup

water

1

teaspoon

lemon juice

1/3

Cup

water

2

cups

soy milk

2

teaspoons

Unflavored Clear Gelatin

4

teaspoons

cornstarch

1

Cup

coconut milk (gata)

3/4

Cup

Washed Sugar

lemon zest

1/8

teaspoon

turmeric (luyang dilaw)

2

teaspoon

vanilla extract
Instructions
Prepare the flan molds (llaneras, ramekins, or dessert bowls). Because this flan doesn t need to be baked, you can use any heatproof, food-grade dish.

Make the caramel: In a small saucepan, combine sugar, water, and lemon juice. Bring to a boil over medium heat. Slightly lower the heat to medium-low and cook without stirring for 15 to 20 minutes, until the caramel reaches a deep amber color. A blonder caramel will be sweeter while a darker caramel will have deeper flavors.

Quickly pour a thin layer of caramel into the molds. Tilt each mold in a circular motion so the bottoms are completely coated in caramel. Set aside.

Make the flan: In a saucepan, add water and 1 1/2 cups soymilk. Add gulamanand whisk quickly. Bring to a boil over medium heat then simmer on low for 3 to 5 minutes or until gulaman dissolves.

Meanwhile, whisk together cornstarch with remaining soymilk in a separate bowl. Set aside.

Add coconut milk, sugar, zest, and turmeric to the gulaman mixture. Increase heat to medium and bring to a boil, stirring occasionally.

Lower heat and whisk in the cornstarch mixture. Cook and stir constantly until the mixture has slightly thickened and cornstarch is completely cooked (it should be smooth, not chalky), about 6 to 8 minutes. Remove from heat and stir in vanilla.

Pour flan into caramel-lined molds, stopping about half an inch from the top. Let cool to room temperature then chill for a few hours (or overnight, if possible) to completely firm up.

To serve, gently run a butter knife along the sides of each mold. Invert the mold onto a serving plate; the flan should slide right off. If you re having trouble unmolding the flan, set the mold over a shallow bowl of hot water for a few minutes, then try again.