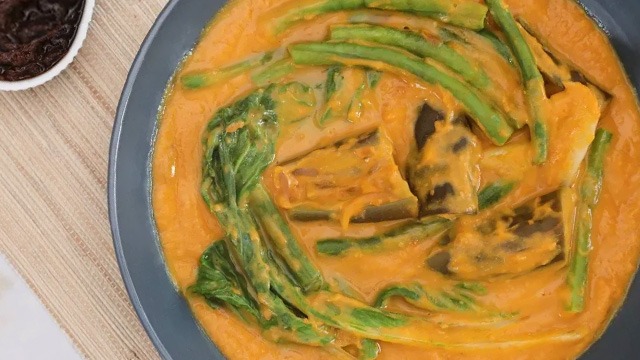 When it comes to dishes, sometimes it's the sauce that makes everything come together into one cohesive dish. That's what makes sauces or sarsa an important part of any recipe, and for this recipe, the vegetables are enrobed in a thick and delicious kare kare sauce.
What Is Kare-kare?
Kare-kare is a classic Filipino oxtail stew that has a thick savory peanut sauce. It is usually made with oxtail, beef tripe or tuwalya, and vegetables like sitaw or green beans, talong or eggplant, and pechay or Chinese cabbage. One of its most defining characteristics is its sauce, which is usually tinted orange from the use of atsuete or annatto seeds, and flavored with beef broth, peanuts, and thickened with ground toasted rice.
What might make this sauce unique among sauces is that it's normally not seasoned. It's actually bland but this just highlights the flavors of the ingredients that make the sauce: the peanuts.
This characteristic makes this sauce a super versatile one that you can pair with almost any kind of ingredient, including just vegetables! For this kare-kareng gulay recipe, the meat is omitted to make it into a vegetarian option or side dish.
How to Serve Vegetable Kare-kare
Serve with bagoong: Whether this is served with meat or just vegetables, a kare-kare is usually served with bagoong alamang. This salty, fermented, and flavorful condiment comes as a paste and just a little goes a long way toward giving a burst of briny and intense flavor to your dish.
Serve with your favorite veggies: The classic kare kareng gulay uses eggplant (talong), long beans (sitaw), pechay Tagalog or bok choy, and banana heart and blossoms (puso ng saging). You can use these and add other veggies that you love just as much. Here are other veggies you can pair with this peanut sauce:
okra or lady fingers
kalabasa or squash
broccoli
cauliflower
tokwa or tofu
carrots
bell peppers
sitsaro or snow peas
Serve with meat on the side: While this is a veggie option, there's nothing wrong with making this into a side dish for your favorite fried meats. You can serve grilled or fried liempo, fried pork chops, steamed seafood, or even crunchy fried chicken with this veggie recipe to instantly make this into an ulam option for any meal of the day.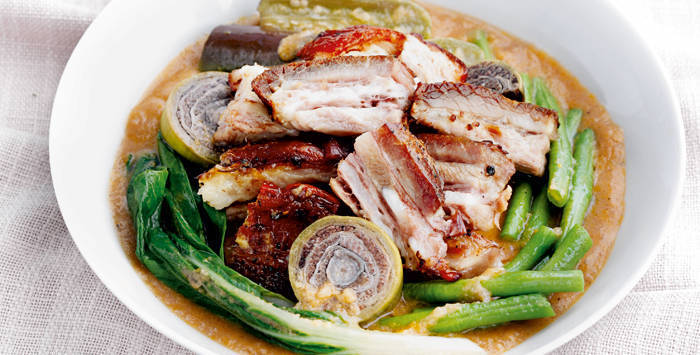 How To Cook Kare-kare
Since this recipe revolves around vegetables that can be blanched in advance, the sauce is what you really need to prepare and cook. The sauce starts with extracting the color from atsuete or annatto seeds in oil. Once this is done, the aromatics are sautéed in this colored oil. Ground peanuts or peanut butter is added along with ground toasted rice which will both help the sauce thicken. Water transforms this thick paste into a sauce.
The prepared vegetables are added to the sauce or can be served on the side as desired.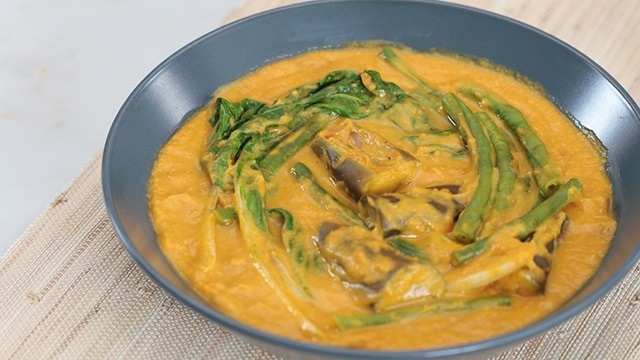 Tips to Make Delicious Vegetable Kare Kare
Since this is basically a sauce recipe with vegetables, the possibilities of making this into a better dish can be endless. Here are some ideas that you might want to try when you make this sauce:
1 Swap the water with broth.
Water is the basic liquid to create a sauce but you're not limited to that! Use a lightly seasoned broth so your sauce isn't too flavorful, especially if serving with bagoong on the side.
2 Stir in the bagoong.
Nobody said that you can't or shouldn't season the sauce at all. In fact, if you want to stay true to the flavor of the kare kare, don't just use salt: use bagoong alamang to make your sauce more flavorful. This is a genius idea especially if you're running low on bagoong and can't serve it on the side.
ADVERTISEMENT - CONTINUE READING BELOW
Recommended Videos
How to Store Vegetable Kare-kare
1 Refrigerate the sauce and the veggies separately.
Kare-kare is a peanut sauce, so it actually keeps well. However, it's the vegetables that can make this sauce spoil faster than normal, so it's best to store it separately from the vegetables in different containers in the refrigerator.
2 The vegetable kare-kare can be frozen for a longer time.
Both the veggies and sauce can also be frozen, still separate, for a longer period of time. Just thaw when ready to reheat and cook again.
Watch: How to Make Vegetable Kare-kare Recipe Video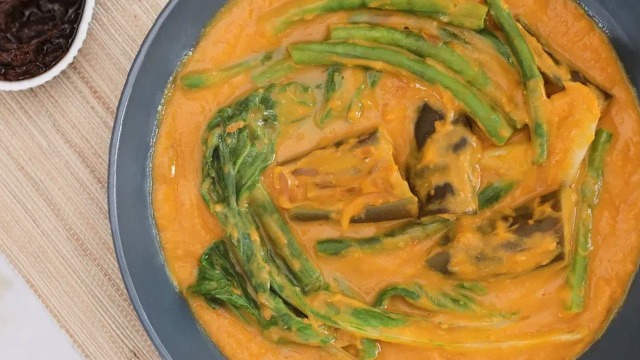 Vegetable Kare-Kare Recipe
Vegetables can be delicious with a tasty sauce!
Ingredients
Vegetable Kare-Kare Ingredients
3

tablespoons

canola oil

1

teaspoon

Atsuete Seeds (annatto seeds)

more if desired

1

medium

red onion

peeled, chopped

3

cloves

Garlic

peeled, chopped

1/4

Cup

peanuts

finely chopped

3

tablespoons

peanut butter

1/4

Cup

rice flour

toasted

2

cups

water

1

bunch

long beans (sitaw)

cut into 3-inch lengths

2

eggplants

cut into wedges

2

bunches

pechay or bok choy

separated

bagoong alamang

to serve
Instructions
Bring a large pot of water over high heat to a boil. Lower heat to a simmer and blanch string beans, eggplants, and pechay in batches until just heated through. Remove from the boiling water, and set aside.

Meanwhile, in a pot over medium heat, heat oil. Add atsuete. Cook, stirring occasionally, to release its color. Remove and discard seeds. Add onion; cook until softened. Add garlic, and cook until fragrant. Add chopped peanuts and peanut butter. Stir.

Mix rice flour and water together. Pour into the pot. Stir. Bring to a boil, then simmer, and let thicken. Add blanched vegetables and cook until just heated through. Transfer to a serving plate. Serve bagoong on the side.