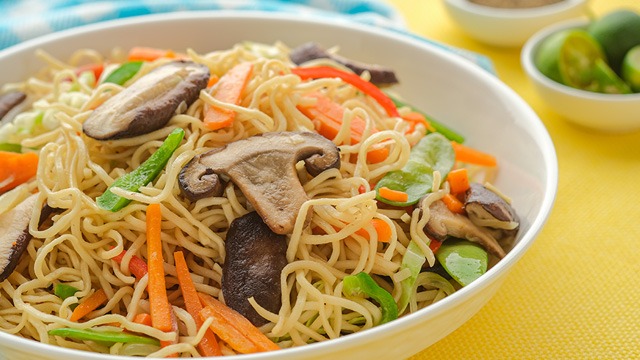 Who needs meat when your pancit canton can be just as delicious and satisfying without it? There are many ways to make your stir-fried noodles recipe or pancit canton more appetizing even without the meat. The umami is found in the meaty mushrooms, the soy sauce, fish sauce, oyster sauce, and all those fresh and good-for-you vegetables tossed in. With so many sources of flavor, this pancit canton is definitely not lacking in anything. 
You have to try this to realize that this meatless, all-veggie, stir-fried noodles recipe is really delicious!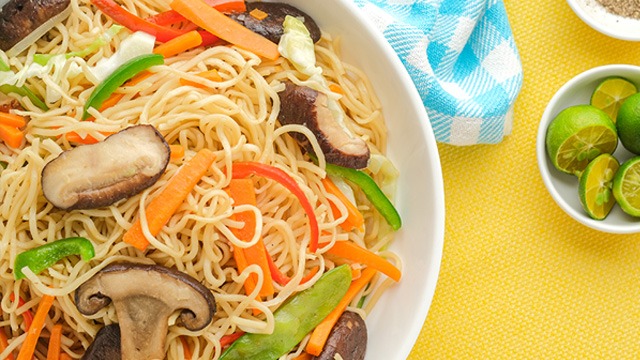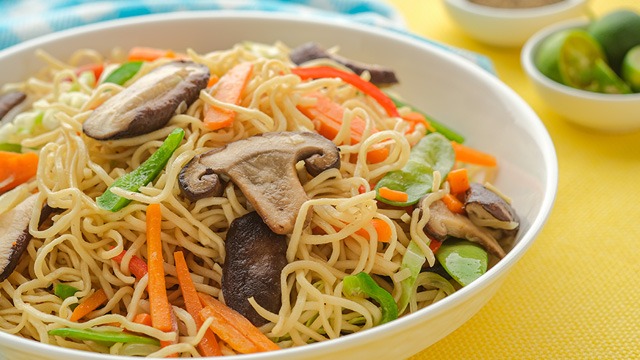 Vegetarian Pancit Canton Recipe
Veggies can be just as delicious, too.
Ingredients
Vegetarian Pancit Canton Ingredients
2

tablespoons

vegetable oil

3

cloves

Garlic

minced

1

Small

red onion

thinly sliced

1

Small

red bell pepper

thinly sliced

1

Small

green bell pepper

thinly sliced

1

Small

carrot

thinly sliced

1/2

Cup

cabbage

shredded

1/2

Cup

sitsaro (snow peas)

cleaned

1/4

Cup

mushrooms

thinly sliced

2

cups

vegetable stock

1/2

Cup

water

4

tablespoons

Soy Sauce

1

tablespoon

patis (fish sauce)

3

tablespoons

oyster sauce

1

400-gram package

pancit canton (egg noodles)

Salt

to taste

ground black pepper

to taste

calamansi

to serve
Instructions
Heat oil in a wok over medium heat, and saute onion and garlic until fragrant. Then add red and green bell peppers, carrots, cabbage, snow peas, and mushroom. Season with salt and pepper. Remove from heat, and set aside.

In the same wok, pour in the stock then add water, soy sauce, fish sauce, and oyster sauce. Add and mix in the noodles, cover, and let simmer for 5 minutes.

Add the vegetables back to the wok, and toss to combine. Cook until the liquid has evaporated. Adjust seasoning to taste with salt and ground pepper. Serve with calamansi.