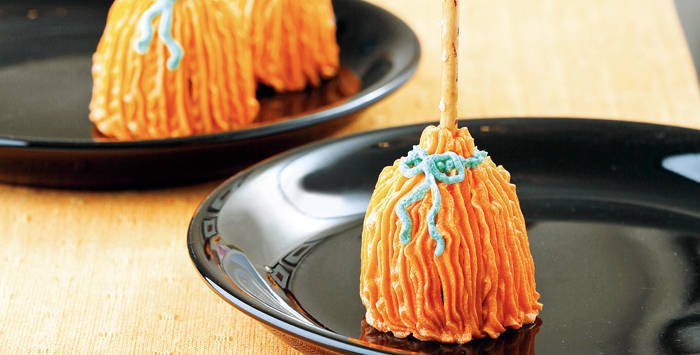 Halloween's here! Put on your hat, practice your spells, and get ready to mix this bewitching treat. Halloween just got more exciting with these sweet and
tasty witch's broom snacks for your kids!
How To Make Witch's Brooms
These Halloween treats are actually chocolate cupcakes with their liners removed and placed upside down on a plate. These are then topped with a little frosting colored with orange and green food coloring and then decorated to look like little brooms. The pretzel stick is perfect for mimicking the wooden handle that is the finishing touch for this Halloween treat: a witch's broom! Now you just need witch's
hats and this easy recipe video
using candy should provide that part!
How To Store Witch's Brooms
These are delicate treats since they have no cupcake liners so to store mini
cakes like this, it's best to decorate these on a small sheet of parchment paper so you can easily move them from the plate and into a container tall enough to accommodate the tall cupcake. These can then be chilled until the frosting is set and firm. When ready to serve, the pretzels can be pushed into the "brooms" right before handing these out to the little trick-or-treaters visiting your home!
Witch's Brooms Recipe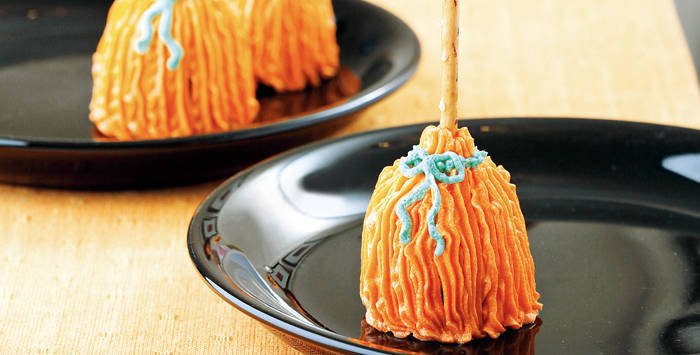 Witch's Brooms Recipe
Create a bewitching treat to give away!
Ingredients
Witch's Brooms Ingredients
3/4

Cup

All-Purpose Flour

3/4

Cup

Cake Flour

3/4

Cup

Sugar

1/4

Cup

Cocoa Powder

1/2

teaspoon

Salt

1

teaspoon

Baking Soda

1/3

Cup

Vegetable Oil

1/2

Cup

Milk

1/2

teaspoon

Vanilla

1

Egg

12 to 16

Pretzel Sticks

3/4

Cup

Shortening

2

cups

Confectioner's Sugar

3

tablespoons

Milk

1

teaspoon

Vanilla

Orange Food Coloring

Green Food Coloring
Instructions
In a bowl, combine the two kinds of flour, sugar, cocoa powder, salt, and baking soda.

In another bowl, combine vegetable oil, milk, vanilla, and egg. 3 Mix dry and wet mixtures together just until combined. Pour into your desired mold for the broom head and bake at 350ºF or until a cake tester inserted in the center comes out clean.

Make the butter cream icing: Beat all ingredients together (shortening, confectioner's sugar, vanilla, and fresh milk) until smooth and creamy. Divide icing into separate bowls. Color three-fourths of the icing with orange food coloring, and one-fourth with green food coloring.

To decorate: Insert a pretzel stick into each cake. Using a small star tip, pipe orange-colored icing on the cake. Use a plain tip to pipe a ribbon on the "bristles" using green icing.