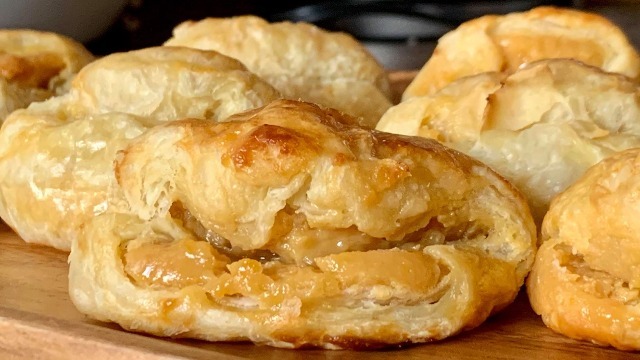 Hopia is one of many desserts or snacks that are favorited amongst the Filipinos. Traditionally, hopia is light and flaky with all sorts of filling such as munggo, sweet white onion, red bean paste, etc. Nowadays hopia comes in many different unique flavors like ube, wintermelon, and even yema!
Want to impress your friends, family, or guests with serving hopia but don't have time to make the dough? Look no further, the dough is pretty much a puff pastry dough. Lucky for us, some grocery stores carries pre-made puff pastry dough! In this recipe, the secret to having a stable yema that holds its shape and not ooze out while baking is flour.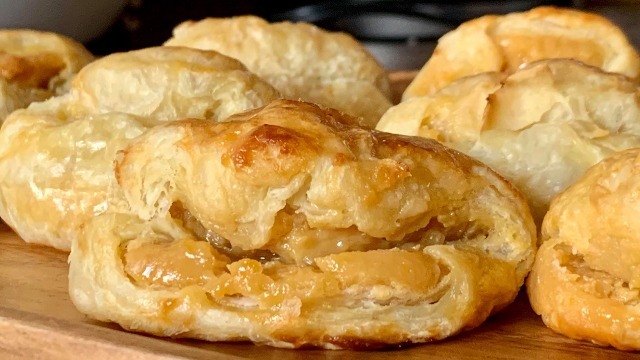 Yema Hopia Recipe
Use ready-made puff pastry from the frozen food section to make this easy.
Ingredients
Yema Hopia Ingredients
1/4

Cup

evaporated milk

2

tablespoons

all-purpose flour

1

teaspoon

Salt

1

14-ounce can

sweetened condensed milk

5

large

egg yolks (from small eggs)

1

teaspoon

vanilla extract

1

box

puff pastry dough

1

large

Egg
Instructions
Make the yema ahead: In a medium bowl, combine and mix the evaporated milk, flour, and salt. Set aside.

In a saucepan, heat up condensed milk and egg yolks first. Cook until thickened and the yolks are properly tempered or heated through.

Add the evaporated milk mixture and cook until the mixture becomes a thick paste. Lastly, add the vanilla. Cool this mixture in the refrigerator for at least 1 to 2 hours, preferably overnight.

To make the hopia, cut out 2.5-inch or 3-inch circles using a cookie cutter or stencil on your pre-made puff pastry dough.

Scoop chilled yema with a small cookie scoop or tablespoon and place it in the middle of the cut-out dough.

Gather the edges together then pinch the edges closed together into a ball, as if you are making siopao.

Then flatten the dough and fold the dough in half, as if you are making a lip.

Place the finished hopia on a sheet pan lined with parchment paper or a silicone mat. Beat the egg to make an egg wash, then brush each hopia before baking.

Bake hopia in oven at 350 degrees F (180 degrees C) for at least 20 minutes or until it is golden brown.