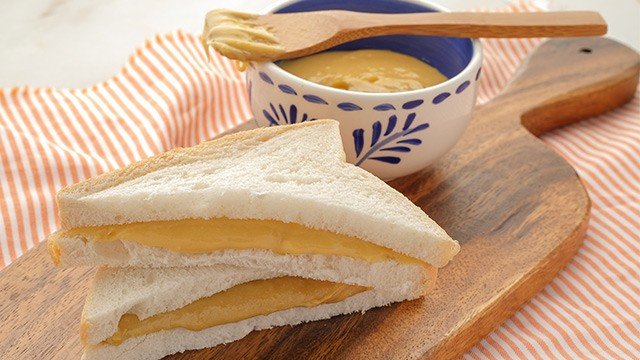 Yema is a candy-like, custard-based Filipino dessert. It's usually triangular in shape and presented in colorful cellophane wrapper. However, this recipe gives a twist to a well-known classic. Try this sticky-sweet yema spread recipe: you can spread it on toast or use it to top other desserts like cupcakes, bread pudding, or ice cream. It tastes just like the classic yema dessert but with a spreadable consistency that is very versatile. If you're a coffee lover, you can add a a few tablespoons of instant coffee for a coffee-yema spread. This delicious pick-me-up dessert is sure to satisfy your sweet tooth!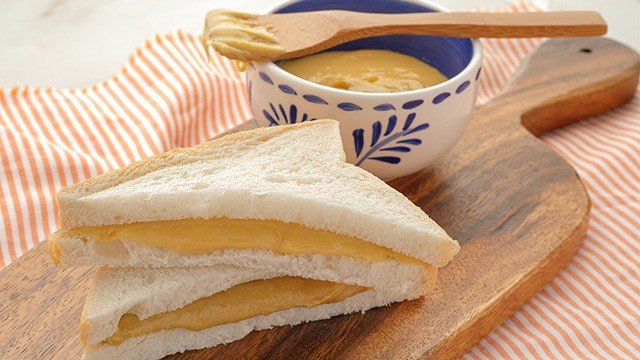 Yema Spread Recipe
Yema is a custard-like Filipino dessert. Have you had it in a sandwich before?
Ingredients
Yema Spread Ingredients
1

250 ml pack

condensed milk

4

egg yolks

1/2

teaspoon

vanilla flavor

3

teaspoons

lemon juice

1/4

cup plus 2 tablespoons

Butter

2 to 3

tablespoons

instant coffee

Optional
Instructions
Prepare a pot of hot simmering water for your bain marie or double boiler.

Combine condensed milk, egg yolks, vanilla, and lemon juice in a heatproof bowl. Whisk until well incorporated. Place this bowl on top of your pot of water (make sure it doesn't touch the water) and continue to whisk for 15-20 minutes or until mixture thickens.

Add butter and continue to mix until butter is well incorporated. Transfer to a jar or container and allow to cool. Spread on toast.