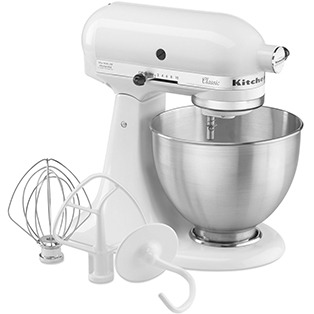 .
Kitchenaid is one of those brands that is quite literally a household name. Known for their classic designs and sturdy, reliable hardware, Kitchenaid's appliances and cookware have stood the test of time. While their products might not be the cheapest around, Kitchenaid's reliability and timelessness are more than enough reason for you to splurge on a mixer (or two). Here's a look at some of our favorite pieces: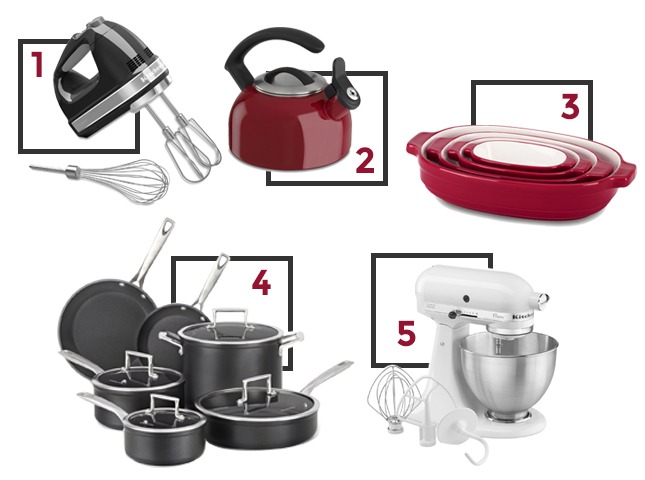 1 7- Speed Digital Hand Mixer (SRP P5,940; P3,795 at Yummy Eats)
Retire Lola's old mixer and have a go at this sleek, lightweight turbo beater, perfect for simple everyday baking. It also comes with a whisk attachment for when you want to whip cream or egg whites to fluffy perfection.
2 Porcelain Enamel Kettle (SRP P3,585; P3,230 at Yummy Eats)
We just love the bright, retro colors of the Kitchenaid enamel kettles which remind us of the ever-cool 1950s!
3 4-Piece Nesting Ceramic Bakeware (SRP P10,640; P9,600 at Yummy Eats)
Save up on space with this fantastic set of nesting bakeware, perfect for when you need to maximize on space without sacrificing function.
4 Professional Hard Anodized Nonstick Ten-Piece Set (SRP 21,845; P19,700 at Yummy Eats)
When we said splurge, we really meant it. Go all in and invest in this complete set of sturdy, anodized non-stick cookware which will make even diehard foodies' knees tremble.
5 4.5-Quart Classic Stand Mixer (SRP P24,635; P20,995 at Yummy Eats)
How could we have a list of favorite Kitchenaid products without mentioning their beloved classic stand mixer? Its timeless design and hardy shell make it the perfect tool for even the most dedicated of home bakers.
You can find these Kitchenaid products and more at discounted prices at this year's Yummy Eats! Just look out for the Kitchenaid booth if you want unbeatable deals on classic appliances. Credit card payments will be accepted.
Images courtesy of Kitchenaid
ADVERTISEMENT - CONTINUE READING BELOW
Recommended Videos