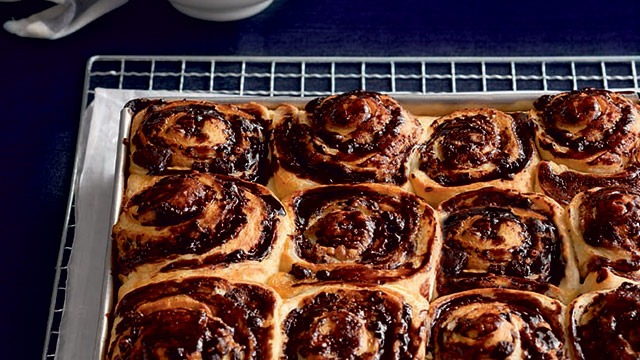 Who can resist freshly baked rolls oozing with chocolate? Yummy will guide you on how to make this tasty and delicious Sticky Chocolate-cinnamon Buns in eleven simple steps! Prepare the ingredients and follow the recipe instructions below.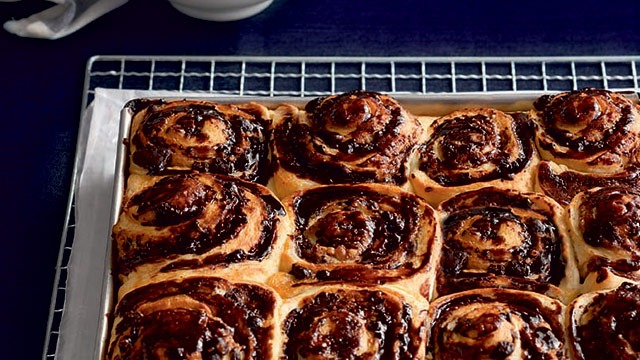 Sticky Chocolate-cinnamon Buns Recipe
Who can resist freshly baked rolls oozing with chocolate?
Ingredients
Sticky Chocolate-cinnamon Buns Ingredients
4 1/2 to 5

cups

all-purpose flour

3/4

teaspoon

Salt

1/2

Cup

sugar

2 3/4

teaspoons

instant dry yeast

3/4

Cup

unsalted butter

softened

3/4

Cup

milk

at room temperature

2

pieces

Egg

vegetable oil

3/4

Cup

walnuts

1/3

Cup

sugar

1

piece

Egg

whites only

1

teaspoon

ground cinnamon

1/2

teaspoon

vanilla extract

3/4

Cup

Bittersweet chocolate

finely chopped

2

tablespoons

sugar

1/4

Cup

water

Butter

softened, for brushing
Instructions
Prepare Basic Sweet Dough recipe: Using a whisk or fork, mix 4 1/2 cups flour, salt, and sugar in a large bowl. Add instant yeast and mix again. Rub or cut in butter into the dry ingredients until incorporated. Mix milk and eggs in another bowl. Pour into flour mixture. Mix until the dough comes together. If the mixture is sticky, add a little more flour.  Transfer dough to a clean, floured work surface and knead for 10 to 12 minutes or until dough becomes smooth and elastic. Add olives, sun-dried tomatoes, cheese, and dried herbs. Continue kneading until ingredients are well incorporated.

 

Perform the windowpane test: Gently stretch a small piece of dough; if it breaks, continue kneading. The dough is ready when you can stretch it into a thin film without it breaking.

 

Tuck edges underneath to form a ball and smoothen the top. Rub dough with vegetable oil and place in an oiled bowl. Cover bowl with a damp kitchen towel. Let dough rest until it doubles in size, about 30 minutes to 1 hour.

 

Once double in size, make an indentation in the dough with your finger; dough should not spring back.

 

Make the walnut paste: combine walnuts and sugar in a food processor. Process until very fine. Add egg white, cinnamon, and vanilla; mix well. Set aside.

 

Make the chocolate filling:

 combine chocolate and sugar. Set aside.

Roll out dough

 into a 10x14-inch rectangle. Spread walnut paste to cover surface of dough, leaving a 1-inch border on one of the long sides. Sprinkle chocolate filling on top.

Carefully roll dough tightly into a 14-inch log, rolling towards the clean border. Tuck edge of the log and pinch at the seam to seal, preventing dough from unfurling and filling from spilling out. Let log rest for 10 to 15 minutes.

Sprinkle chopped chocolate and water on the bottom of a 9x9x2-inch baking pan.

Cut dough into 12 equal portions. Place rolls in baking pan, leaving a 2- to 21/2-inch gap between rolls.

Brush rolls with butter. Cover baking pan with plastic wrap. Let rolls rest for about 45 minutes or until they double in size.

Remove plastic wrap and bake for 25 to 30 minutes or until tops are golden brown. Let rolls cool in pan.