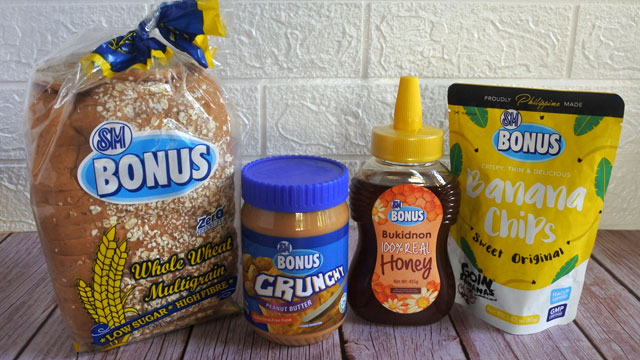 We all love certain brands of products and when we go shopping for groceries, some products are worth it despite a higher price. These favorite supermarket food items are what many of us keep in stock in our kitchens. 
However, you may notice that some products carry the name of the store, also known as home brand products. 
There's a preconception that the supermarket-branded products are not as good as the branded products that share their shelves. It's commonly considered the budget buy and while this might be true for some products, there are some products that are worth your notice. 
For SM Markets, this brand is known as SM Bonus. Here are some of our favorite SM Bonus products that we believe will make you think twice about not reaching for that humble home brand product: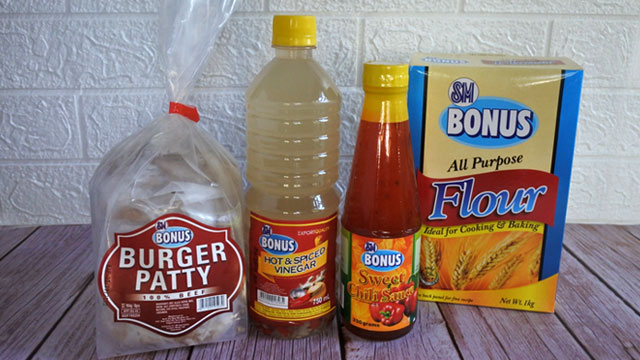 SM Bonus Burger Patty (P195) 
Frozen burgers are perfect for weekends and these burgers are hefty without sacrificing flavor; it's that well seasoned. These cook up wonderfully on the grill (or in the pan) and deliver on the juicy beef flavor that you expect. These also come in a reasonable pack of eight patties so you can definitely make a double patty stacked burger without filching someone else's patty. 
SM Bonus Hot & Spiced Vinegar (P49.50) 
A good spiced vinegar is not that easy to come by and contrary to what some may believe, it takes time to make at home. If you crave that kick of heat from your vinegar, this infused vinegar may hit the spot just right. The heat from the chilis and the pepperiness is a welcome taste with the sharpness of the vinegar. Your everyday spicy sawsawan is made even easier with this! 
SM Bonus Sweet Chili Sauce (P31.50)
Lumpiang Shanghai is a delicious ulam or merienda idea but it's not complete without a side of dipping sauce. If you're looking for a sweet chili sauce that actually delivers on both tastes, you'll be delighted to see that this bottle does.   
SM Bonus All-Purpose Flour (P84.50)
One of the many ingredients that you can buy without worrying too much about are some of the most common ingredients in homes. These include rice, sugar, and flour. All-purpose flour, in particular, is an ingredient that you don't need to think about too much since it's used frequently, whether you're baking or cooking. For this purpose, feel free to grab this humble box for your flour needs.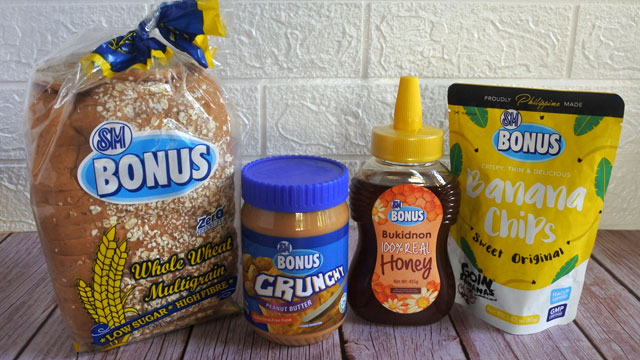 SM Bonus Whole Wheat Multigrain Bread (P69)
Multigrain bread is one of those kinds of bread you expect to find in posh bakeries. That's why this is a great find because this humble loaf is delicious bread. Studded with seeds, nuts, and oatmeal on top, this multigrain bread delivers on the taste of whole wheat bread. It's small and might be pricer than other whole wheat bread of a similar size but for a humble brand, this is a tasty alternative.
ADVERTISEMENT - CONTINUE READING BELOW
Recommended Videos
SM Bonus Crunchy Peanut Butter (P129.75)
Not everyone loves the sweet-style peanut butter. For those of us who prefer our peanut butter on the peanutty side, this is a great alternative to the imported brands. This 470-ml jar also comes in a creamy version and a home-style version for those who love it more natural in texture and taste. 
SM Bonus Bukidnon 100% Real Honey (P169.75)
What can we say: real honey is expensive. That's why it was a delight to know that real honey sourced locally could be found at your nearest SM Market in the form of this bottle. Priced to be more affordable than imported honey, you can get the real taste of honey and not worry over it being fake. 
SM Bonus Banana Chips Sweet Original (P25)
Crispy and sweet, banana chips are a childhood favorite snack. These fruit slices are naturally sweet so it's a great alternative to the overly sweetened snacks that many of us love. These come in 80-gram packs which is enough to satisfy your sweet tooth while watching your movie marathon. 
What are you favorite supermarket brand products? 
***